2023–2024: Stanford Neighborhood Visiting Artist
I'm thrilled to serve as Neighborhood Visiting Artist at Stanford University.
I am collaborating with the Office of the Vice President of the Arts and Residential Education to engage students around artmaking and themes of belonging in Stanford's eight residential neighborhoods in the Winter and Spring quarters.
10/6/2023–1/14/2024: Ordinary People @ Long Beach Museum of Art, Long Beach, CA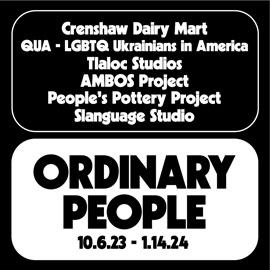 I'm happy to exhibit recent Life Lessons letterpress prints in Slanguage Studio's installation in this group show of collectives.
10/6/2023–1/14/2024
Ordinary People
Long Beach Museum of Art, Long Beach, CA
Opening reception: 10/6, 7–9pm
Published: The Resonant Museum: Berlin Conversations on Mental Health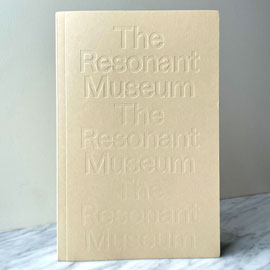 I contributed an essay on artistic practice as participatory research, grounded in my workshops on belonging and zine-making in Berlin in 2022–2023.
How can the museum become a socially relevant place? How can museums contribute to the production of knowledge about mental health?
The Resonant Museum is published in the context of the exhibition YOYI! Care, Repair, Heal, which took place at the Gropius Bau from September 2022 to January 2023. The Resonant Museum brings people from science, culture, politics and activist contexts into dialogue about mental health. The publication was produced as part of a cooperation between the Gropius Bau and Mindscapes, the international program on mental health of the Wellcome Trust.
The Resonant Museum: Berlin Conversations on Mental Health
Edited by Diana Mammana and Margareta von Oswald
Cologne: Verlag der Buchhandlung Walther und Franz König
2023
Book Launch & Reading
September 30
Martin-Gropius-Bau, Berlin
Fall 2023 Speaking Engagements
This fall I delivered artist's talks and workshops at: Composium, SUNY New Paltz, New Paltz, NY; Social Practice City University of New York (CUNY), NYC; San Francisco State University; University of San Francisco; The Oxbow School, Napa, CA; and ULF Bazar 2023, Malmö Academy of Music, Lund University, Lund, Sweden.
Color Factory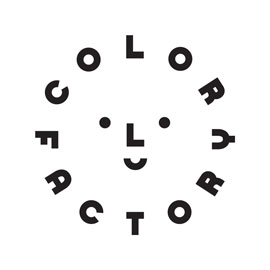 Leah Rosenberg, Erin Jang, and I collaboratively created Complementary Compliments, an installation about drawing, coloring, and human connection. As a fan favorite, there's a special version of Complementary Compliments in each Color Factory location.
See photos of Complementary Compliments on Instagram.
Color Factory
New York: 251 Spring Street
Houston: 3303 Kirby Drive
Chicago: Willis Tower
7/9–8/4: StudioWorks Artist-in-Residence, Tides Institute & Museum of Art, Eastport (Muselenk), ME.
I was honored return as the first alumni StudioWorks Artist-in-Residence after serving as the first AIR 10 years prior in 2013.
During the residency, I expanded Life Lessons, my social practice and letterpress print project exploring resilience and meaning-making, now available via my online shop.
2/4–8/4/2023: How I Keep Looking Up / Como Sigo Mirando Arriba / 仰望 @ Chinese Culture Center of San Francisco, San Francisco, CA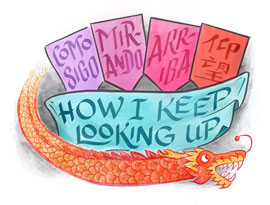 I am so proud to be the lead artist in a cross-cultural project tailored to immigrant communities in San Francisco.
How I Keep Looking Up is a trilingual, multiethnic, public art activation engaging 16 working-class immigrant women to create flags which represent their power and resilience.
In August through October 2022, I led six workshops at 41 Ross in Chinatown and the Mission Cultural Center for Latino Arts in the Mission District. In the workshops, the designers shared their migration journeys, developed design skills, and hand-crafted textile flags.
On February 4, accompanied by a mariachi band and the project team, the 16 designers carried their flags in the 2023 Chinese New Year Parade in San Francisco. How I Keep Looking Up was the first contemporary art project in the Parade—one of the longest-running, largest celebrations of immigrant culture in the US, which started in 1851.
This project is supported by the Kenneth Rainin Foundation Open Spaces Program, with additional support by the California Arts Council, California Department of Social Services, and Community Challenge Grant.
Chinese New Year Parade
Saturday, 2/4/2023
Downtown San Francisco & SF Chinatown, CA
5:15-8:00 pm.
Exhibition
2/7–8/4
Chinese Culture Center of San Francisco
750 Kearny St, 3rd Fl, San Francisco, CA 94108 (Google map)
Gallery Hours: Tues-Sat, 10–4
Free admission
Community Meet and Greet with Designers
Saturday, 3/18, 1–3 pm
A gallery walk-through in English, Spanish, and Cantonese with the 16 designers.

Read articles in El Tecolote (1) (2), KQED, Hyperallergic, Sing Tao Daily (中文), and World Journal (中文).
Watch the ABC7 news segment or KTVU parade coverage (50:30–51:02). KTSF also aired a segment and parade coverage (中文).
Summer 2023: Meridien Center, Washington, DC
How Do You Keep Your Heart Open? (For Susan) was displayed at the Meriden International Center in Washington, DC, as part of Visionary Not Reactionary, an exhibition organized with For Freedoms.
2022 Mindscapes Artist in Residence at Large
In 2022, I traveled to NYC, Berlin, Tokyo, and Bengaluru to co-lead 11 workshops that explored belonging and well-being with nearly 100 participants.
I compiled 85 hand-drawn guides and prompts into Kindling: Activities to Spark Joy and Belonging Gathered from Around the World, a four-volume set of zines totaling over 200 pages, available in English, German, and Japanese.
Mindscapes is the Wellcome Trust's international cultural programme that aims to support a transformation in how we understand, address and talk about mental health.
As a Mindscapes artist-in-residence, I participated in a panel on mental health at Art Basel | Hong Kong in late March, 2023. A recording will be available on Art Basel's website.
Kindling was on display in Holding (see below) and Mindscapes: In the Company of Others @ Museum of Arts & Photography in Bangalore, India through 8/6.
Read "The global mental health crisis: Wellcome Trust launches international science and art project to help people cope" by Charlotte Jansen in The Art Newspaper (October 10, 2022).
Read "Teenage Dream" by Helena Najm and Friederike Windel on Urban Omnibus (November 2, 2022).
3/22–4/29: Holding @ Berkeley Art Center
I'm delighted to activate the Berkeley Art Center.
I'll present my international zine exchange exploring belonging and mental wellbeing, self-care card decks, and seven banners reflecting belonging affiliated with the LA Public Library in this gallery activation.
Monday, April 3
L.A. Zine Club
Los Angelese Public Library
Watch the recording on YouTube.

Thursday, April 13
Self-Care Card Deck Workshop
6–7 pm
Berkeley Art Center

Saturday, April 8
Artist's Talk & Zine Launch Party
2–5 pm
Berkeley Art Center
Now through 3/17: Recognitions / 认 • 知 @ California College of the Arts, San Francisco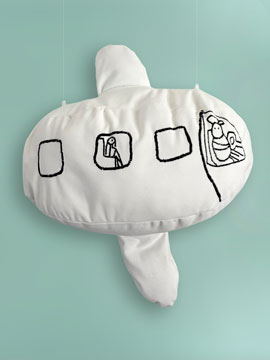 I'm delighted to share a solo exhibition featuring new artworks resulting from a social practice collaboration that started a year ago with local elementary school students in SF Chinatown.
This past spring, I led art workshops at Edwin and Anita Lee Newcomer Elementary School, public school in SF Chinatown for Chinese-speaking, newly arrived immigrant students. This was part of my project as the 2022 Creative Citizenship Fellow at the California College of the Arts, which was supported by a $20,000 grant from the National Endowment for the Arts.
Since then, I've created three new projects adapting the children's artworks about immigration and home. A series of portraits and child-friendly, mixed-media installations will invite interaction and play in a bilingual, inaugural exhibition.
Recognitions / 认 • 知
A solo exhibition by Christine Wong Yap
CCA Campus Gallery, Blattner Hall
1480 17th Street (at Arkansas Street), San Francisco, CA, 94107 (Map)

Exhibition dates: 1/25–3/17
Opening reception: Wednesday, January 25, 2023, 5:30-7:30PM
Gallery hours: Wed 11–7, Thurs–Fri 11–5.
*


Free and open to the public

Symposium & Special Weekend Hours
Saturday, March 4
1–4pm: I'll be a guest speaker in the Belonging at CCA Symposium at CCA, 1111 Eighth Street, San Francisco


*

4–6pm: Celebratory gathering and special viewing hours at CCA Campus Gallery
5/7–11/6: Something In Common @ L.A. Public Library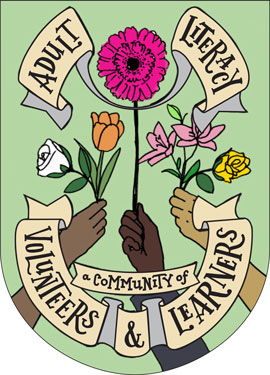 I was honored to be invited to this commission and exhibition. I commemorated seven affinity groups as spaces of belonging with custom designed and sewn banners.
From October 2021 through Spring 2022, I interviewed members of clubs and affinity groups that meet at the L.A. Public Library. The seven banners and a newly published zine are on view in an inventive exhibition.
These works have been commissioned by the Library Foundation of L.A. and the L.A. Public Library in collaboration with Wellcome Trust as part of Mindscapes, Wellcome's international cultural program about mental health, with exhibitions, programs, and conversations taking place throughout 2022 in New York City, Berlin, Tokyo, and Bengaluru, India.
Something in Common
Curated by Todd Lerew, Director of Special Projects, Library Foundation of Los Angeles
Getty Gallery at the Central Library, 630 West Fifth Street, Los Angeles, CA

Watch segments on Something in Common on KCET's Morning News.
Read "Connection in 'Something in Common.'" by Alia Noll in the Daily Trojan (October 27, 2022).
Published: Design for Belonging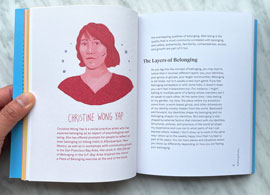 I'm honored to be a "host-hero of belonging" among thought leaders like Bell Hooks, Brené Brown, Boots Riley, John A. Powell, and Laverne Cox in Design for Belonging by Susie B. Wise.
Design for Belonging is a beautiful book, and a clear and actionable resource with analogies and easy-to-follow exercises. If you're at all interested in belonging or inclusion, please check it out.
Published by Stanford d.school and Ten Speed Press.
Residency Project & Exhibition @ Palo Alto Art Center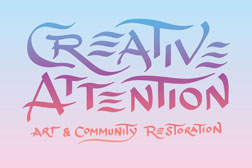 Creative Attention: Art and Community Restoration will feature the work of 18 artists from the San Francisco Bay Area and beyond. The exhibition will showcase alternatives to our chaotic world of stress and anxiety, through practices of mending, healing, restoration, belonging, sustainability, and resiliency.
In conjunction, I was an artist in residence engaging local teens and seniors in Palo Alto and East Palo Alto on places of belonging. Their calligraphy and portraits are on view in a new installation.
Plus, I lettered the exhibition title for the postcard and painted it on the gallery wall.
Residency: Winter 2021–Spring 2022
Exhibition: January 22–May 21, 2022 (now closed; map will remain on display until August 20, 2022)
Opening Reception: Friday, January 28, 2022, 6-8 PM, Free
Virtual Artist Residency Conversation with Christine Wong Yap and Marcel Pardo Ariza: Friday, March 4, Zoom
Palo Alto Art Center, 1313 Newell Road, Palo Alto, CA 94303
1/27-3/26: Print Public @ Kala Art Institute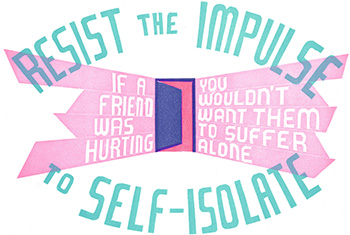 Come see my newest letterpress prints. Participate in artmaking activities that can help promote mental wellbeing. You can also take home a letterpress print — available for collectors as a signed limited edition, as well as in exchange for a self-reflection writing exercise. Visit the gallery for details.
Print Public 2021–2022 features new work by 2021-2022 Print Public Residency artists: Cristine Blanco + Emma Logan, Lara Kaur, Related Tactics: Michele Carlson, Weston Teruya, + Nathan Watson, and Christine Wong Yap. I was a municipal artist-in-residence working with the City of Berkeley's Department of Health, Housing, and Community Services department.
Exhibition: 1/27–3/26
Public programming TBD
Kala Art Institute Gallery: 2990 San Pablo Ave, Berkeley, CA
Residency: 2021–early 2022
3/4: Color Council Chromatic Journey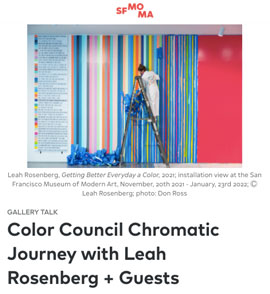 I'll speak on the color 'smoke' as exemplefied in one artwork in this tour featuring other speakers and artworks. I am honored to participate in this event organized in conjunction with exhibitions by Leah Rosenberg and Susan O'Malley.
Color Council Chromatic Journey
SFMOMA
Thursday, March 4, 6pm
Part of First Thursdays (Bay Area residents receive free admission)
2/17: Keynote Speaker @ CalPoly
I was honored to present my praxis and current areas of inquiry as the keynote at the Sixth Annual Social Justice Teach-In.
How I Keep Looking Up: Art & the Social Practice of Belonging and Resilience
Wong Yap's work engages questions of belonging through projects that are as much social practice as they are public art. Drawing on examples from New Mexico to New York City to San Francisco Chinatown, they will share some of the lessons they have learned as an artist, highlighting how their projects have been shaped by local knowledge and positive psychology, and the steps they have taken to increase diversity, accessibility, equity, and inclusion in their projects.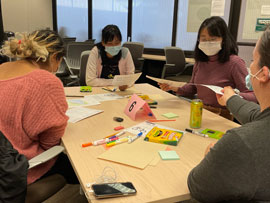 I also developed and led a workshop specifically for students and staff working in support roles at CalPoly.
Let's Co-Create a Self-Care Card Deck
Self-care is more than deciding to "treat yo self." It is not self-indulgent. Self-care can be a powerful antidote to stress and burnout. It can provide inner ballast to help withstand the harms caused by social media or imposter syndrome linked to white supremacy and patriarchy.

In this generative, participatory, hands-on workshop, we will work in teams to co-create a Self-Care Card Deck based on the model of fast-paced athletic circuit training (no burpees required!). We will brainstorm and contribute ideas on how we already practice self-awareness, self-compassion, self-acceptance, and self-love. Then we'll draw and hand-letter a card deck of these practices, and beta-test the cards in real time.
Social Justice Teach-In
Co-organized by the College of Liberal Arts and the Office of University Diversity and Inclusion
February 17, 2022
CalPoly, San Luis Obispo, California

1/27: Panelist, Creative Aging Symposium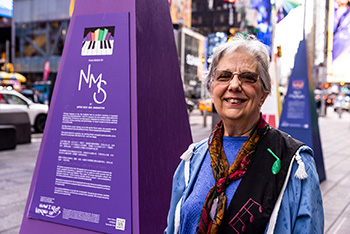 I'm honored to co-present How I Keep Looking Up with contributing artist Nancy Simpson at this virtual conference.
Creative Aging Symposium 2022: Rooted in Belonging
Free / Suggested donation: $13
Zoom
Through 11/15: Flags of Safety and Resilience @ Off Lomas, Albuquerque, NM
Flags of Safety and Resilience is a rapid-response, weeklong social practice project, resulting in 10 flags that convey how local community members practice and experience safety. Learn more.
Transveil by sheri crider & Obie Weathers III / Flags of Safety & Resilience by Christine Wong Yap & contributors
Off Lomas, 13th St NW, Albuquerque, New Mexico.
Artworks are on view 24/7. Free.
October 20–22: Visiting Artist @ University of Wisconsin, Madison
As a Visiting Artist, I enjoyed giving an artist's talk in the Colloquium; doing studio visits with 7 grad students in printmaking, 4D, and glass; being a guest artist initiating an experimental project in the Glass Lab; and getting to blow glass.
Thanks to Helen Lee, UW, the Glass Department, and everyone for the warm welcome and interest.
Launching 9/27: How Do You Keep Your Heart Open? (For Susan)
I collaborated with Avant Arte to create a fine art edition. It features a drawing that I originally created for a billboard campaign organized by For Freedoms. I'm pleased to share the influence of Susan O'Malley on me as an artist and human, and for this work to be in conversation with work by Hank Willis Thomas.
Launching 9/27
Avant Arte x For Freedoms
Learn more
9/17–10/19: To Oakland With Love, ProArts and AGENCY at The Loom, Oakland
Three flags from the How I Keep Looking Up flags of resilience project in Sheboygan, Wisconsin, are on view in this exhibition of textile works.
To Oakland With Love
Curated by Maymanah Farhat
The LOOM, 2150 Livingston Street, Oakland, CA
Summer: Dear America, multiple locations, San Francisco Bay Area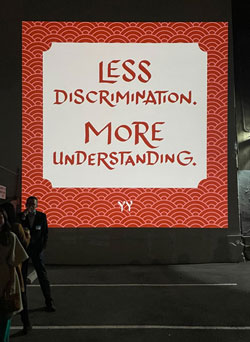 I've contributed artwork to this artist-led project.
The artwork features a quote in English and Chinese by YY, from the Art, Culture, and Belonging project based in San Francisco Chinatown in partnership with Chinese Culture Center of San Francisco.
Dear America is a series of projections featuring artworks by AAPI artists, lighting up the Bay Area in solidarity. Projections include artworks by Christine Wong Yap, Mel Chin x For Freedoms, Christy Chan, Jenifer K. Wofford, Cathy Lu and more.
Follow @dear_america_project to learn about projection locations by answering questions about Asian American history.
Additional projections are scheduled for:
July 15: downtown San Francisco
July 18: California and Taylor Streets (a sanctioned partnership with Grace Cathedral)
July 25: downtown San Jose
August 12: Dear America Closing @ Montalvo Art Center, Saratoga, CA.
Read "Asian American Artists Light Up Buildings With Guerilla Messages of Solidarity" by Sarah Hotchkiss on KQED Arts (July 1, 2021) and "Anti-Racist Bat Signals Light Up S.F." by Veronica Irwin in SF Weekly (July 14, 2021).
June 14–August 9: How I Keep Looking Up @ Times Square Arts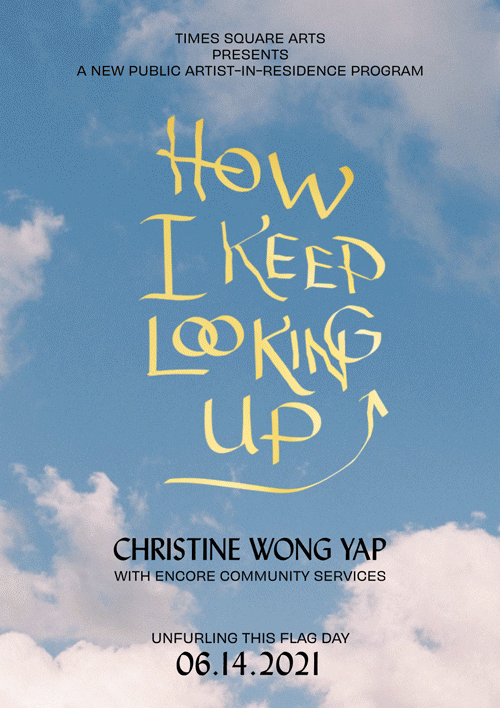 I'm launching a new public art installation as a public artist-in-residence at Times Square Arts.
I worked with 11 seniors from Encore Community Services to create flag designs that represent sources of their resilience. We hired stitchers through Theatrical Wardrobe Union Local 764 IATSE to sew 11 flags, which will be displayed on custom flagpoles.
Animated graphic by Panny Chayapumh.
Residency: Spring
Public Artwork Launch: Flag Day | Monday, June 14, 11am
Flags on view: June 14–August 9
Times Square, Broadway between 45th and 46th Streets, NYC
Times Square Arts
Watch the segment on WCBS-TV (local CBS NYC news).
Read profiles of the senior contributors in Our Town (NYC).
Spring 2021: Welcome Club @ California College of the Arts and Lee Newcomer School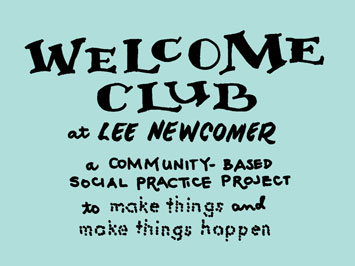 I'm inviting art students to create activity sheets especially to welcome students in a K-5 serving recent immigrants in SF Chinatown.
Learn more. CCA students: Register for the orientation session. California College of the Arts, San Francisco.
Edwin and Anita Lee Newcomer School, San Francisco.
1/30–5/9: Related Tactics @ Wexner
Artist collective Related Tactics invited me to "contribute handwritten instructions or guidance for the audience" to their project, Ready.
January 30–May 09, 2021
Climate Changing: On Artists, Institutions, and the Social Environment
Wexner Center for the Arts at Ohio State University
Columbus, OH
Through 4/30/2021: Alive & Present @ 41 Ross, San Francisco
After a yearlong process as lead artist of Art, Culture, and Belonging in S.F. Chinatown, I published Alive & Present, a comic book based on real people's stories of belonging.
Visit the storefront installation with self-guided walking tour maps
Closing Party (outdoors & socially distanced)
Friday, April 30
2-4 pm
41 Ross Alley, San Francisco Chinatown
Ongoing: Hopes for Chinatown, a temporary public art project
735 Clay Street, San Francisco Chinatown
April 2021: Part of For Freedoms' AAPI Solidarity campaign, in partnership with Orange Barrel Media on a billboard in Atlanta, GA, and on kiosks in St. Louis, MO.
See Sing Tao Daily's "藝術家創作支持華埠 葉黃嘉雯領銜" (Artwork Supporting Chinatown Led by Christine Wong Yap) and 48Hills.org.
藝術,文化,與歸屬感
2/17–4/9: Belonging @ Santa Clara University
I was honored to be invited to develop an online solo exhibition.
I present three recent projects exploring belonging, with an emphasis on process. For this virtual exhibition, I also created a new transmedia 'story map' of 12 places of belonging, organized around three fundamental human needs: safety, satisfaction, and connection.
February 17-April 9, 2021
Belonging: Christine Wong Yap
Online solo exhibition
Santa Clara University Department of Art and Art History
Wednesday, March 3, 5pm PST: Artist's Lecture via Zoom
2020 YBCA 100 Honoree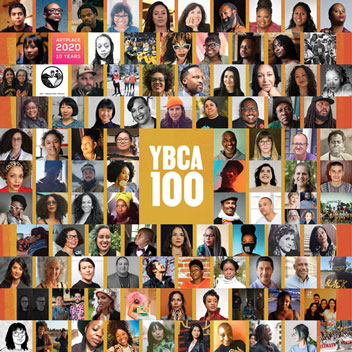 I am thrilled to be awarded this honor.
This annual list celebrates the creative changemakers and everyday heroes—artists, activists and community leaders—whose work is in service of building sustainable, equitable, and regenerative communities. 
I wouldn't be able to make my work without residencies, partners, funders, supporters, contributors, and friends. Thank you everyone! Big thanks to Maymanah Farhat for nominating me.
2020 YBCA 100

Saturday, April 3, 2021
YBCA 100 Summit
A dynamic virtual experience of performances, stories, rituals, and collective dreaming. Co-designed with Crux, an XR movement founded by and centering Black technologists.
8/5/2020–2/28/2021: Between You and Me @ John Michael Kohler Art Center, Sheboygan, WI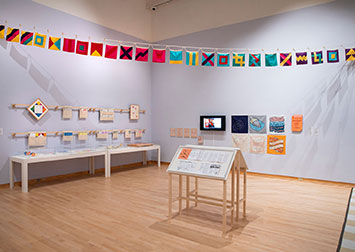 I'm thrilled to contribute several recent projects—including belonging projects in Albuquerque and the San Francisco Bay Area, Ways and Means, and Positive Signs: United Theories—to this group exhibition.
Between You and Me "brings together contemporary artists whose practices are intentional acts of care for their neighbors or broader communities."
Curated by Shannon Rae Stratton.
Artists include: Chloë Bass, Sara Clugage, General Sisters (Dana Bishop-Root and Ginger Brooks Takahashi), Harriet Tubman Center for Expanded Curatorial Practice with Lisa Jarrett and Harrell Fletcher, John Preus, Benjamin Todd Wills, and Christine Wong Yap.
August 5, 2020–February 28, 2021
Between You and Me
John Michael Kohler Art Center, Sheboygan, WI
May 9: Panel with Curator Shannon Stratton and artists. Watch on Vimeo.
In conjunction with the exhibition, I also developed two participatory projects:
Gratitude Letter Project
How I Keep Looking Up flags of resilience project. On view in the JMKAC Social STUDIO January–March 2021. Zine forthcoming.
Through March: How I Keep Looking Up @ John Michael Kohler Arts Center, Sheboygan, WI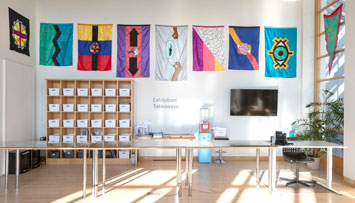 Flags from this social engagement project on resilience are on display in JMKAC's Social STUDIO, as well as at Étude Middle School in Sheboygan.
For Freedoms' 2020 Awakening named one of the defining artworks of 2020 by Artnews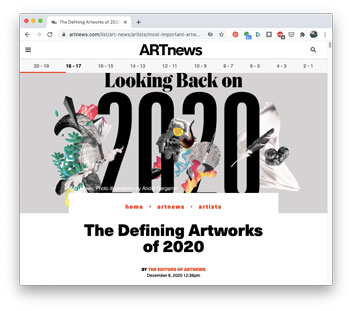 "2020 Awakening ... took place in ... all 50 states, Washington D.C., Puerto Rico, Guam, and the U.S. Virgin Islands. ...the project brought together 85 artists, ... to create 100 billboards that addressed voters directly with images accompanied by short powerful phrases."
—The editors of Artnews, "The Defining Artworks of 2020," Artnews, December 9, 2020.
As part of 2020 Awakening, my billboard, "How Do You Keep Your Heart Open? (For Susan)" was installed in Omaha, NE from Indigenous People's Day through Election Day.
It also appeared as a conversation starter in a conversation between Eric Liu and Yo-Yo Ma (24:47).
2019–2020 LMCC Workspace Artist-in-Residence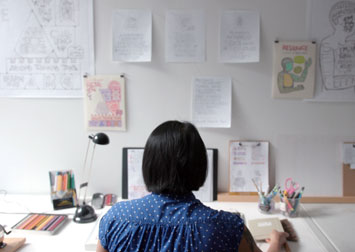 I'm one of 10 artists selected for this studio program in Lower Manhattan.
Being selected was a fantastic honor, and I thoroughly enjoyed the program, despite its interruption due to the global pandemic.
October 17–18: Virtual Studio Visits: Watch the Recordings
Learn more about the AIRs: lmcc.net
LMCC's Workspace Studios at 101 Greenwich photo by Brian J. Green
Fall 2020: Messages for the City
A citywide public initiative to send messages of gratitude and solidarity to essential workers.
Fall: Mint Museum, Charlotte, NC.
This past summer: Electronic billboards at Times Square; 400 bus shelters and newsstands in NYC, Boston, and Chicago.
Learn more.
"Virtual Armory Live | Public Art: The Way Forward"
Wednesday, June 17, 12pm Eastern
In conversation: Jean Cooney (Director, Times Square Arts), Michelle Woo (Director, For Freedoms), and artists Christine Wong Yap and Nekisha Durrett. Moderated by Nicole Berry (Executive Director, The Armory Show).
11/19: Montalvo Scratch Space
Episode 10: How Can We Keep Our Hearts Open? 
Tune in for a conversation on care and radical imagination.
Thursday, November 19
Online, organized by Montalvo Arts Center
Noon–1 pm Pacific / 3–4 pm Eastern
Free

Visual artists Leah Rosenberg and Christine Wong Yap discuss their shared interest in psychological wellbeing at a time of great social anxiety and discord. How can we keep our hearts open when we are so divided? How do we do the work of restorative care? We'll explore Wong Yap's latest work, including her public art portraits of real New York City medical workers as messages of gratitude during the COVID-19 crisis. Rosenberg will discuss her recent installation, Like a Multivitamin, in the Women & Children's Center of Santa Clara Valley Medical Center and examine how color can support wellness and resiliency.

Watch on YouTube.
Christine Wong Yap, How Do You Keep Your Heart Open? (For Susan), 2020, Pencil on paper, artists' tape, 3.5 x 11 inches. Commissioned by For Freedoms and Unfinished. Photograph by Jeff Scroggins.
7/10–12/20: Poetry Is Not a Luxury @ SF Center for the Book
The group exhibition includes Working Together prints, 100 Stories of Belonging in the S.F. Bay Area, and bandannas from the Belonging project.
July 10–December 20, 2020
Poetry Is Not A Luxury
Curated by Maymanah Farhat
San Francisco Center for the Book, 375 Rhode Island Street San Francisco, CA
Friday, September 19, 4–6pm Pacific: Online Artist's Reception
Friday, October 16, 5–6 pm Pacific, Exhibition Tour with curator Maymanah Farhat
August 2020: Celebrate People's History (2nd Edition) published
I contributed a poster design to this book and poster project.
Read my blog post, "Studio Notes: A Poster on Angel Island Liberty Association for Celebrate People's History" to learn about the project and my intention to honor subversive activities in light of unjust immigration laws, in solidarity with immigrants at the U.S.-Mexico border today.
Celebrate People's History: The Poster Book of Resistance and Revolution, edited by Josh MacPhee is available at The Feminist Press.
You can browse Celebrate People's History posters at Just Seeds (my poster was recently printed and will be added later).
Juror: New Glass Review 41 @ Corning Museum of Glass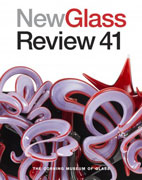 I had the pleasure and privilege to serve as a juror for New Glass Review 41, an annual exhibition in print published by the Corning Museum of Glass in Corning, NY.
Read my "Notes from a Juror" blog post about my experience, as well as some tips for future applicants.
See the Art Competition Odds.
Art Practical Zine Published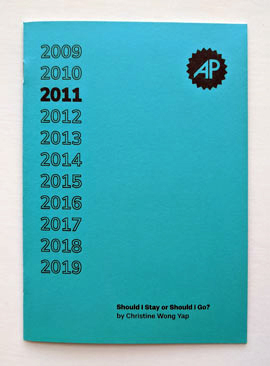 My 2011 essay, "Should I Stay or Should I Go?" has been reprinted as a standalone zine.
In celebration of their 10-year anniversary, Art Practical published a set of zines that compiles a selection of essays and conversations—one from each of our last ten years of publications. I'm honored to be included among these esteemed writers: Aruna D'Souza, Jacqueline Francis, Victoria Gannon, Glen Helfand, Cliff Hengst, Scott Hewicker, Emily K. Holmes, Kevin Killian, Genevieve Quick, Matthew David Rana, Adrienne Skye Roberts, Anton Stuebner, Margaret Tedesco, Weston Teruya, and Kathy Zarur.
The zine is available via donation to Art Pratical, or at the Art Practical Holiday Reading and Gathering on Saturday, December 14, 2019, 7–9 PM at Wolfman Books at 410 13th St, Oakland, CA.
December: Glint Artist
This month I'm taking over GLINT's Instagram.
Instigated by UK artist Jessica Longmore, GLINT examines "The moment when the work happens. The circumstance of inspiration." I'm looking forward to sharing the many forms and locales of artistic practice. I'm happy to stay connected with artists in Manchester and affirm the free flow of ideas across borders.
See what happens at @glintproject.
7/19–9/21: Poetry Is Not a Luxury @ Center for Book Arts, NYC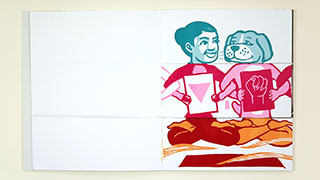 My artist book, Working Together, will be exhibited in this exhibition. Come mix-and-match the pages.
7/19–9/21
Poetry Is Not a Luxury
Curated by Maymanah Farhat
Center for Book Arts, 28 West 27th St, 3rd Flr, New York, NY 10001
Gallery Hours: M-F 11-6 & Sat 10–5
Opening Reception: July 18, 2019, 6:30pm
Artist & Curator Talk: August 22, 2019
Poetry Reading with Mizna: September 5, 2019
6/20: NIAD Online Exhibition
I curated an online exhibition at NIAD.org.
It was a pleasure to meet NIAD artists during the Belonging project. I was honored to be invited to learn more about these artists' practices.
Jeremy Burleson, Luis Estrada, and Anne Meade: Dreamscapes, Mind Maps, and Hearts' Desires
Selected by Christine Wong Yap
Online exhibition at NIAD.org.
Just launched: 100 Stories of Belonging in the S.F. Bay Area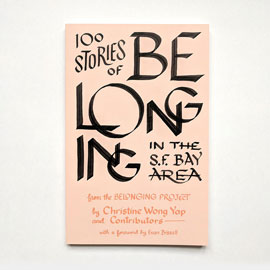 I edited and designed this 116-page book of stories of belonging, with maps and photos of bandannas and certificates, as well as research on 15 qualities of belonging.
The book is the culmination of the Belonging Project as the inaugural artist in residence at the Haas Institute for a Fair and Inclusive Society.
$25.
Haas Institute Artist in Residence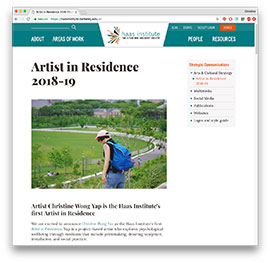 I'm honored and overjoyed to develop a Bay Area-wide project to commemorate places of belonging with letterpress-printed certificates, and to create a local atlas of belonging. Learn more at Belonging.ChristineWongYap.com.
Artist in Residence
November 1, 2018–May 1, 2019
Haas Institute for a Fair and Inclusive Society, UC Berkeley
Project book launch: Othering & Belonging Conference, April 8–10, 2019
Read more:
"Christine Wong Yap Asks: Where Do You Feel a Sense of Belonging?" by Sarah Hotchkiss, KQED Arts, February 24, 2019.
"In Discussion with Christine Wong Yap" by Sara Grossman, Haas Institute for a Fair and Inclusive Society News Magazine, Spring 2019, (PDF, 10.2 MB).
"It's official: This Berkeley rabbi's home is a 'place of belonging'" by Maya Mirsky, J. Weekly (March 14, 2019).
10/7/2018–2/24/2019: Queens International @ Queens Museum
I collaborated with Brian Droitcour to create The People's Guide to the Queens International, a participatory project gathering public-generated writing responses to the exhibition as it unfolded.

Read what people wrote and download our zines at ThePeoplesGuideQI.org.
Queens International 2018: Volumes
Queens Museum
Flushing Corona Meadows Park, Queens
Exhibition: October 7, 2018–Feburary 24, 2019
Opening: Sunday, October 7, 2018, 2–5pm


Read Lauren O'Neill-Butler's Artforum Diary.
Read Rain Embuscado's New York Magazine guide.
10/16–11/16: Take Action @ CCA Hubbell Street Galleries, San Francisco
I'm excited to explore belonging in the Bay Area in this For Freedoms exhibition around the midterm elections. Come make your own Belonging poster using a new letterpress-printed template.
Take Action
CCA Hubbell Street Galleries
161-131 Hubbell St., San Francisco
Free and open to the public
Opening reception: Tuesday, October 23, 5:30-7:30
Gallery hours: M-F 12–5, Th 12-7:30, Closed Saturday & Sunday
10/5–11/3: Political Birthdays @ Dream Farm Commons, Oakland, CA
I'm proud to exhibit Irrational Exuberance Flags in this exhibition curated by Susannah Magers.
Dream Farm Commons, 349 15th Street Oakland, CA
Gallery Hours: Thurs–Sat 11:30–5:30
Opening: Friday, October 5, 6–9
This Is Not a Gun X Montez Press
I've contributed a page to Cara Levine's This Is Not a Gun: 31 Days, 31 Artists, 31 Voices.
This Interjection Calendar contains writings and illustrations of 31 artists, writers, activists and healers responding to objects mistaken as firearms in fatal encounters with police. It will be available in print at end of year, but you can view the PDF online now.
Montez Press' Interjection Calendar: This Is Not A Gun (PDF)
More info at ThisIsNotAGun.com, including readings at the Berkeley Art Museum on September 22 and at Forward Union (NYC) on September 29–30.
Guiding Stars Public Artwork Now Installed
I've created a small public artwork in Bay Meadows, San Mateo, CA.
Having resided on the Peninsula, it was an honor to have this opportunity. Learn more.
March–April: Inter/de-pen-dence on playtime.PEM.org
Inter/de-pen-dence: the game is featured on a blog accompanying an exhibition on play at the Peabody Essex Museum. My collaborator, Sarrita Hunn (The Institute for Autonomous Practices), and I are pleased to share a version you can download, print, and cut and a web page where you can draw the question and tactics cards.
As an example of the deep conversations around autonomy and relatedness how hope to catalyze, we've also invited special guest artists to play the game with us. Torreya Cummings (Oakland, CA), Malcolm Peacock (Baltimore, MD), and Ronny Quevedo (Bronx, NY) discuss collaboration, mutual support, and connecting with audiences. Round 1 just posted. Following rounds will be posted in coming weeks.
1/12–1/21: Into Action, Los Angeles
Thanks to For Freedoms for including my Forward banner in this pop-up exhibition/social justice festival.
Into Action
1726 N Spring Street, Los Angeles, CA 90012
12/2–12/3: Forward Union, NYC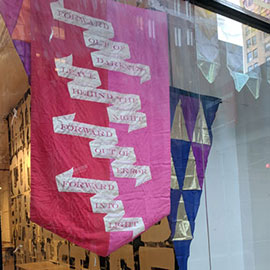 I'm displaying Irrational Exuberance (Asst. Colors) flags and my Forward banner at this social action info fair featuring activist organizations, art installations, and public programming in downtown NYC.
Forward Union
714 Broadway, NYC
11/3: Inter/de-pend-ence: the game @ Common Field Convening, Los Angeles
Sarrita Hunn will present our collaborative project, Inter/de-pend-ence: the game, at the Common Field convening.
November 2–5
Common Field Convening
Japanese American Cultural & Community Center
Los Angeles

6/5–9/30: Free Trade @ Chinese Culture Center Design Store
Some of my Interdependence diagrams and the Horoscopohilia set of Zodiac cards will be on view in this exhibition.
Guest curator: Alice Wu
Participating Artists: Miriam Dym, Joyce Hsu , Jimin Lee, Cathy Lu, Louise Leong, Gabby Miller, Johanna Poethig, Chelsea Wong, Leland Wong, Christine Wong Yap
Free Trade
Exhibition: June 8–September 30, 2017
Opening: Thursday, June 8, 5–8pm
CCC Design Store, 750 Kearny Street, 3rd Fl., San Francisco, CA, 94108 (inside the Hilton Hotel)
9/9–9/30: Art Moves Festival, Poland
I've updated artworks using ribbons to spell positive messages for public artworks in the 10th Anniversary edition of the Art Moves Festival in Poland. This year's theme is "Involvement and responsibility. Can each of us co-create a better world?" My works, miej nadzieję na to, co dobre, pozwól na to, co jeszcze lepsze (hope for good, allow for even better) and przejmij kontrolę nad swoim szczęściem (take charge of your happiness), appear in bus shelters near a public park and a transit station.
Art Moves Festival
September 9–30
Various locations in Toruń, Poland
June 1–July 7: Sanitary Tortilla Factory Artist-in-Residence
July 7–28: Zine Release & Open-Studio-in-Closing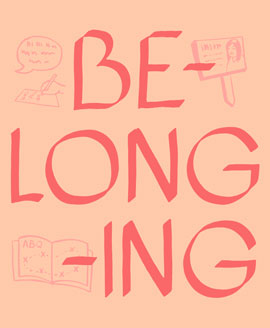 This summer, I'm very excited to develop Belonging, a community-engaged participatory project in Albuquerque, NM.
Saturday, June 10, 4–6pm: Artist's Talk & Community Meet-Up
Friday, July 7, 6–9pm / First Friday ARTScrawl: Zine Release and Open-Studio-in-Closing
Exhibition: July 7–28
Gallery Hours: Fridays &amp Saturdays 12–5

Sanitary Tortilla Factory
401 2nd St SW (between Lead & Coal), Albuquerque, NM
July: Little Paper Planes Artist-in-Residence
I'm looking forward to making ceramics multiples in residence at LPP's studio at Minnesota Street Projects.
LPP+ Residency (@ Minnesota Street Project), San Francisco, CA
Thursday, July 20, 8pm: Artist's Talk, 1240 Minnesota Street studios. RSVP here.
4/21–7/1: Workspace Artist-in-Residence Exhibition @ Center for Book Arts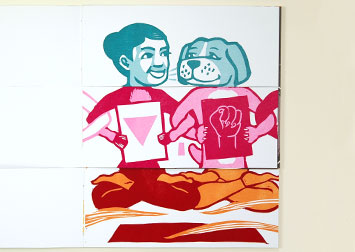 I'm very happy to share new print and book projects. Working Together: a mix-and-match book of nice and not-so-nice modes of collaboration features 14 two-color reduction prints, each depicting animal or human characters interacting. I'm also exhibiting a selection of prints from the book, as well as a new Ways and Means activity.
Workspace Artists-in-Residence exhibition
Exhibition: April 21–June 30, 2017
Opening Reception: Friday, April 21, 6–8pm
Artists' Talk: Friday, May 5, 6:30–8:30 pm
Center for Book Arts, 28 West 27th Street, Third Floor, NYC

4/6–22: Art | Kala 2017 Auction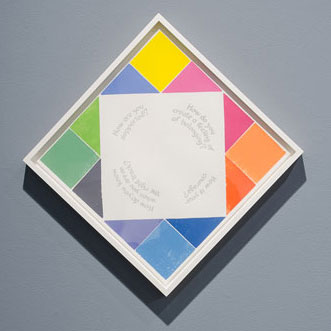 Support this great Berkeley, CA non-profit art organization by bidding on works such as my 13-color print made in collaboration with Leah Rosenberg.
Art | Kala 2017 Auction
Preview: April 6, 6–9pm
Exhibition: April 6–22
Gala Auction: April 22, 7–10pm
4/14: Center for Book Arts Annual Benefit & Art Auction
Support this one-of-a-kind New York non-profit, and bid on my letterpress tool roll!
2017 Annual Benefit
Friday, April 14, 6–9 pm
Center for Book Arts, 28 West 27th Street, NYC
1/15–3/26: Disarming Geometries @ Dorsky Gallery, Long Island City, NY.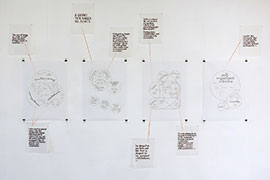 I'm happy to share my Interdependence project: Venn diagram drawings, flag, and 'zine in this exhibition.
Curated by Gabriel de Guzman

Artists: hannes bend, Glenn Fischer, Shanti Grumbine, Nicholas Hamilton, Samantha Holmes, Maria Hupfield, Tatiana Istomina, Glendalys Medina, Mitch Paster, Armita Raafat, Martyna Szczesna, Ryan Turley, & Christine Wong Yap
Read Neil Chiragdin's review, "Artists use geometry to convey the shape of things," in the January 19th issue of the Queens Chronicle.
Disarming Geometries
Exhibition: January 15–March 26, 2017
Opening Reception: Sunday, January 15, 2017, 2-5 pm
Discussions & Performances: February 5, February 19, March 26
Dorsky Gallery, 11-03 45th Ave, Long Island City, NY 11101
Hours: Thurs–Mon, 11am–6pm
2/3–3/10: Social Energies @ Legion, San Francisco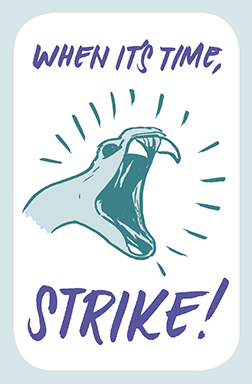 I'm looking forward to this exhibition exploring social energy and Chinatowns.
I'm very excited to share a new project made especially for this show. It's a broadside set of 12 cards. Each card interprets a sign from the Chinese zodiac and an aspect of political agency. I'll also be debuting a letterpress-printed handkerchief with a solidarity-themed fistbump repeat pattern.
Curated by Alice Wu.
Featuring works on paper by Kayan Cheung-Miaw, Andrew Chuani Ho, Louise Leong, Cathy Lu, Leon Sun, Chelsea Wong, Leland Wong, and Christine Wong Yap.
KPFA's APEX Express interviewed me about my work in the lead-up to Social Energies.
Social Energies
Exhibition: February 3-March 10, 2017
Opening: Friday, February 3, 5-8 pm
Legion, 678 Commercial Street, San Francisco, CA 94111
Hours: M–F 11–6; Sat 11–4
Nos Cubrimos Las Espaldas on NewYorker.com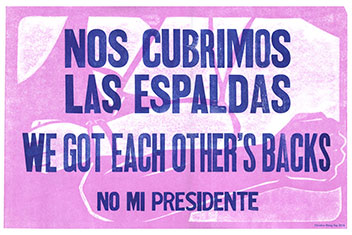 My solidarity poster appeared on the website of the New Yorker Magazine.
See Colin Moynihan's write-up of Just Seed's graphics archive, "A Seedbed of New Images to Protest Trump," on the NewYorker.com (January 18).
Download, print and share my solidarity poster from ">my blog or from Just Seeds.
1/15–2/18: Forms + Public @ INCA, Seattle
The publishers of Temporary Art Review's To Make a Public are hosting a three-book launch and exhibition in their artist-run space; the Inter/dependence 'zine and data visualizations will be on view.
Artists: Maja Hodošček, Rae Armantrout, Christine Wong Yap, Red 76 and Aeron Bergman & Alejandra Salinas.
Forms + Public (INCA Press launch)
Exhibition: January 15–February 18, 2017
Opening: January 15, 2–5 pm, with a talk by Vancouver Institute for Social Research (VISR) at 3pm
INCA Press, 2 West Roy St, Seattle, WA
1/17: Protest Sign Work Party @ SOHO20
Join me for an informal protest sign-making work party.
I'll be on hand to share materials and hand-lettering resources. Looking forward to talking about our concerns, and helping you visualize your message.
Tuesday, January 17, 6-9pm
Protest Sign Work Party
SOHO20, 56 Bogart Street, Brooklyn, NY
2016 Center for Book Arts Workspace Artist-in-Residence
I'm so thrilled to expand my NYC artistic community, take classes in letterpress and bookbinding, and access the printshop and bindery as a resident at the Center for Book Arts in Manhattan.
It's a really interesting group of AIRs; thanks to the jurors for the chance to be part of this cohort.
An exhibition of 2016 AIRs will be presented in April 2017.
Center for Book Arts, NYC, NY
Check out my residency reflections on my blog.
Through 12/27: Artists' Annual @ Kala
I'm pleased to present a site-specific conversational apron project at Kala. The printshop was an influential space for thinking about interdependence among artists.
October 27–December 27, 2016
2016 Kala Artists' Annual Exhibition
Reception: Thursday, October 27, 6–8pm
Holiday Party: Thursday, December 15, 6–8pm
Kala Art Institute Gallery, 2990 San Pablo Avenue, Berkeley, CA
12/3: Inter/dependence: the game + To Make a Public book launch @ SOHO20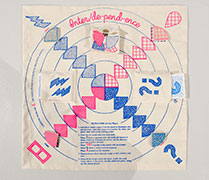 I'm teaming up with Sarrita Hunn, Temporary Art Review and SOHO20 to present a book launch and game play event. I'm especially thrilled to hear from special guest artists and writers Colleen Asper, Ben Kinsley, Jessica Lynne, and Ryan Lee Wong.
Inter/dependence: the game + To Make a Public book launch
Friday, December 2, 2016, 7-9pm
SOHO20 Gallery, 56 Bogart Street, Brooklyn, NY
2015–2016 Kala Fellowship Award & Exhibition
I've been thoroughly enjoying my time as a Fellow at the wonderful communal printshop and community that is Kala. It's also be a special joy to get to know and work alongside the other Fellows. Come see an exhibition of our projects.
Building upon my research and prototypes at LMCC last fall, I'm debuting Ways and Means, a new body of letterpress- and screen-printed activity kits, collaborative games, and custom-made garments. The project includes collaborations with Leah Rosenberg, Elizabeth Travelslight, and Sarrita Hunn (Institute for Autonomous Practices).
Read about my experiences as a Fellow on my blog: Part 1 is an intro and overview and Part 2 is a summer update and reflection.
Exhibition: Appro-propagation, July 14–October 15, 2016
Opening Reception: Thursday, July 14, 6-8pm
Kala Art Institute Gallery, 2990 San Pablo Ave, Berkeley, CA
Tues–Fri 12–5, Sat 12–4:30
11/15: Fall Benefit @ SOHO20
I'm proud to contribute artwork to this non-profit, which has supported women in the arts for over 40 years.
Get a ticket to snag a Ways and Means letterpress-printed canvas tool roll, among other artworks.
Tuesday, November 15, 2016, 6–9 pm
SOHO20 Fall Benefit
SOHO20 Gallery + Studio 10, 56 Bogart Street, Brooklyn, NY
October: Temporary Art Review data animation
I visualized data collected from over 100 artists for a Temporary Art Review commission on the occassion of the recent Common Field convening in Miami.
How do artists rate... Museums? Alternative Art Spaces? D.I.Y. artists' activities?
Temporary Art Review
October 12, 2016
3/25–5/20: Document V @ The Luminary Arts
I'm really excited to share my Inter/dependence 'zine and flag at Temporary Art Review's exhibition.
The show is "an official record of Temporary Art Review as a public form, summarizing the first five years of collective research by a disparate group of artists, curators, observers, activists and critics."
Temporary Art Review: Document V @ The Luminary, St Louis, MO
Exhibition: March 25–May 20
Opening Reception: March 25, 7–10pm
4/7–22: Art | Kala 2016 Auction
Support this fantastic Berkeley, CA non-profit art organization by bidding on works such as my woodcut-printed linen banner.
Art | Kala 2016 Auction
Preview: April 7, 6–9pm
Exhibition: April 7–22
Gala Auction: April 23, 6:30–10pm
4/8–28: Spring Benefit 2016 @ Momenta Art
Enter the raffle to win artworks (including mine) and support this artist-run non-profit art organization in Brooklyn.
Spring Benefit, Momenta Art, Bushwick, Brooklyn
Works on view: April 8–28
Raffle drawing, live auction, and after party: April 28, 7pm
Contributor, When We Fight We Win
A poster I illustrated and designed to stop unfair evictions in Oakland Chinatown appears in a new book on art and activism.
It's a hefty book with plentiful illustrations, interviews with artists, and contextualizing essays.
Greg Jobin-Leeds and AgitArte
When We Fight We Win
New Press, 2016
Aug–Dec: LMCC Process Space studio residency
I'm so grateful to be nominated and accepted to this five-month, project-based studio residency. I'm looking forward to researching and developing a new body of work around artists' agency and artist-citizen meta-practices.
After conducting a survey completed by 112 visual artists, I'm sharing the findings via Inter/dependence, a new 20-page zine, including 9 data visualizations and an essay. Learn more about the launch at Open Studios and how to order your copy.
Open Studios:
Saturday, September 26 & Sunday, September 27, noon-5pm
Friday, December 11, noon-5pm
LMCC Art Center/Building 110, Governor's Island, NYC
[See photos of the open studio, including charts of initial findings.]
7/9–9/20: Bronx Calling: The Third AIM Biennial @ Bronx Museum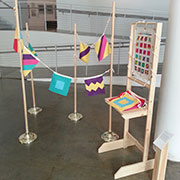 I'm debuting 24 signal flags designed and sewed with letterpress-printed labels, each representing a character strength. The flags will be installed on a stand with a legend, and viewers are invited to find and fly the flags of their strengths on available flagpoles.
Curated by Bronx-based artists Hatuey Ramos-Fermín and Laura Napier, the exhibition features the work of 72 emerging artists engaged in the Artist in the Marketplace (AIM) Program (classes of 2014 and 2015).
Dana Varinsky. "Emerging Artists Take the Bronx," Time Out New York, July 15, 2015.
—, "Bronx Museum Showcases (and Helps) Emerging Artists," New York Times, July 10, 2015.
Bronx Calling: The Third AIM Biennial
Open House: Wed, July 15, 6–9 pm
Exhibition: July 9–September 20, 2015

Bronx Museum, 1040 Grand Concourse, Bronx, NY
Always free.
Three of my Flourish woodcut printed banners are on view and available in this benefit exhibition and sale.
Opening Reception: September 10, 6PM-8PM

Organized by Erik Hougen
International Print Center New York
508 West 26th Street, Room 5A, New York, NY

May 20–July 18: The Eve Of... @ Portland 'Pataphysical Society / c3:initiative / PDX Contemporary / PSU Assembly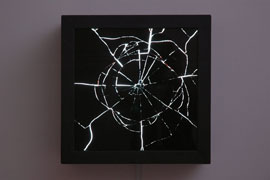 In Portland, OR, I'm presenting a solo exhibition, speaking about social practice, and making new work in residence.
Exhibition: The Eve Of...
June 4–July 17
Portland 'Pataphysical Society (PataPDX), 625 NW Everett St #104 (Everett Station Lofts), Portland, OR
Gallery hours: Fri–Sat 12–5 and by appt.
Jeff Jahn, "First Thursday Picks, June 2015," PortlandArt.net, June 4, 2015.
Satellite exhibition
May 30–June 27
PDX Contemporary, windows, 925 NW Flanders, Portland, OR
Viewable 24/7.
Opening: Thursday, June 4, 6–9pm (First Thursdays)
Residency
May 20–June 6
c3:initiative
PSU Assembly: A discussion about Make Things (Happen)
Wednesday, May 27, 8-10 pm
Hosted by c3:initiative at PataPDX
In partnership with PSU MFA in Art & Social Practice's Assembly 2015
With guest dialogists and Make Things (Happen) participating artists Julie Perini and Lexa Walsh.
June 25–27: Rummage @ Open Source Gallery, Brooklyn
Lauren Frances Adams and I will present new participatory projects in this exhibition inspired by garage sales.
Lauren Frances Adams and Christine Wong Yap share interests in how objects and possessions are imbued with meaning. a handle, a stem, a hook, a ring, a loop is a collaborative installation of imaginative objects and paintings that explore desire, loss, and non-attachment.
Exhibition/project series: Whitney Lynn: Rummage
Artists: Wong Kit Yi, Kai Vierstra, SeoKyeong Lee Yoon, Christine Wong Yap and Lauren Frances Adams
Rummage: June 6–June 29, 2015
Opening Reception: June 6, 7-9 pm
Projects by Lauren Frances Adams and Christine Wong Yap: a handle, a stem, a hook, a ring, a loop: Thursday, June 25 and Friday, June 26, 3-8pm; Saturday, June 27, 1-6pm
Open Source Gallery, 306 17th Street, Brooklyn, NY
Photos coming soon; check our Instagram takeover (6/24–30): @cwongyap @cornfield_alley @opensourcegallery #OpenSourceTakeover
May 2–30: Material Practices in the Everyday @ Artery Art Space
Iterations of Positive Signs as site-dependent drawings will appear in this group exhibition.
May 2–30, 2015
Opening: Saturday, May 2, 6 pm
Artery Art Space, 102 P.Tuazon Blvd, 4001 Cubao, Quezon City, Philippines

Artery Art Space proudly presents a group exhibit that looks into the world of everyday objects and practices in order to mine cultural meaning from within, together with the intention to instigate the formation of social content. The exhibit features a variety of practices from drawing and painting to texts and sculptural installation, photography, video, and performance. Artists featured in the show are Ronald Achocoso, Anjo Bolarda & Marika Constantino, Carl Graham, Russ Ligtas, Stephanie Misa, Shireen Seno, Stephanie Victa, and Christine Wong Yap.
April–May: Harvester Arts Residency & Exhibition
After conducting interviews and a survey on collaboration, I made hand-lettered drawings, a 28-page 'zine, and furniture for reading as well as viewing a video of collaborative works by local artists.
Residency: April 4–26, 2015
Exhibition: All the Steps in the Process: a research project on collaboration, April 24–May 17, 2015
Opening Reception: Final Friday, April 24, 7–10pm
Harvester Arts, 215 North Washington, Old Town, Wichita, KS
Gallery hours by appointment.
2/4–3/1: Make Things (Happen) @ Interface Gallery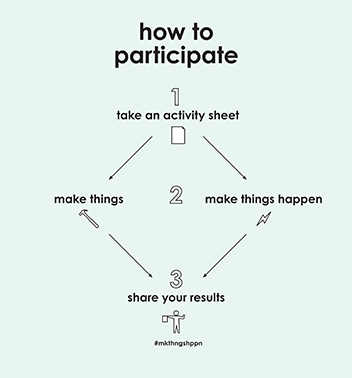 Make Things (Happen) is coming to Oakland for its very own exhibition. This expanded version will feature over 40 artist-created activity sheets, interactive work stations, offsite locations, and artist-led public events!
February 4–March 1, 2015
Opening Reception: Friday, February 6, 6–9pm (Oakland First Fridays)
Interface Gallery, 486 49th Street (inside Temescal Alley, between Telegraph Ave. and Clarke St.), Oakland, CA
Gallery Hours: Wed–Sun, 11–4
2/6–3/15: Most Likely to Succeed @ Wave Pool
I'm happy to help kick off a new artist-run space by participating in their first show! I'll be showing 12 diagrammatic Postive Signs drawings.
Artists: Alicia Escott, Kristin Farr, Erin Colleen Johnson, Chase Melendez, Susan O'Malley, Jessica Smith, and Christine Wong Yap.
February 6–March 15, 2015
Opening reception: Friday, February 6
Wave Pool, Cincinnati, OH
11/15–12/31: Ortega y Gasset Projects @ SideCar Gallery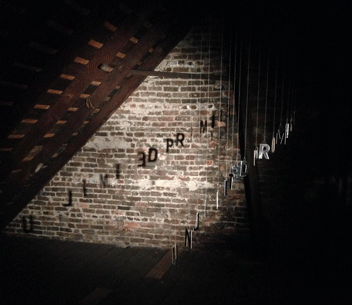 I'm excited to join this artist collective and gallery. First up: we're exhibiting in a group show in the Chicago metro area.
November 15–December 31
EARTHTWERKS & Other Celestial Familiars
SideCar Gallery
411 Huehn St., Hammond, IN
Opening reception: November 15, 5–10 pm
August/September: The Eve Of...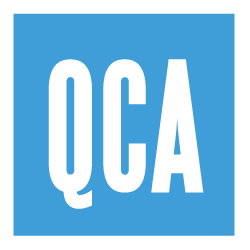 A self-initiated residency, new body of work, artist-run exhibition, and public forum supported by a Queens Art Fund Grant from the Queens Council on the Arts with public funds from the New York City Department of Cultural Affairs in partnership with the City Council.
Learn more about The Eve Of...
Mar. 27–Nov. 29: Social in Practice: The Art of Collaboration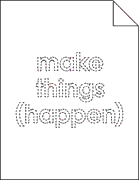 Over the moon about sharing this new project featuring activities by 29 artists.
Curated by Deborah Willis and Hank Willis Thomas, the exhibition brings together 16 innovative change-makers—as well as community activists, sociologists, scholars, and a physician—around social justice, collaboration, community, empowerment and activism.
March 27–October 2, 2014
Nathan Cummings Foundation, NYC
Reception: March 27, 6-8 pm

October 16–November 29, 2014
NYU Tisch School of the Arts Department of Photography and Imaging galleries
Gulf + Western Gallery (1st Floor) and 8th Floor Galleries @ DPI, 721 Broadway @ Waverly Place, New York, NY 10003
Opening Reception: Thursday, October 16th 6-8pm
Gallery hours: M–F 9–7, Sat 12–5
Read Pete Brook's review: "Exhibition Review: 'Social Practice: The Art of Collaboration.'" on PrisonPhotography.net (June 19).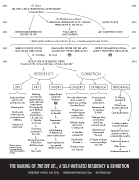 Curator and writer Christian L. Frock invited me talk about my self-initated projects on her panel, SOS Artists: Strategies of Survival.
I will participate from the East Coast—sharing reflections, images, and a diagram. It should be an interesting dialogue—panelists include esteemed colleagues Jonn Herschend, Ernest Jolly, Favianna Rodriguez, and Stephanie Syjuco.
View the timeline flowchart mapping my strategy.
June 12, 2014: Ribbon Texts on Oprah.com
My positive messages sewn in real ribbons can now be seen on Oprah.com.
June 2–8: The Pictures Full of Happiness
I completed new ribbon texts in Polish for a mobile exhibition on billboards and posters.
Featured artists included Susan O'Malley, Leah Rosenberg, and Galeria Rusz. The exhibition traveled to cities and small towns in Kujawsko-Pomorskie Region: Bydgoszcz, Toruń, Włocławek, Inowrocław, Chełmno and Golub-Dobrzyń. Students groups visited and responded with their own artworks.
June 2–8, 2014
Galeria Rusz across the Kujawsko-Pomorskie Region, Poland
Bronx Museum Artists in the Marketplace
Excited to be part of this cohort of 36 NYC artists and participate in mutual studio visits. The works and dialogues have been engrossing.
The Artist in the Marketplace (AIM) program provides networking opportunities to emerging artists residing in the New York metropolitan area and to introduce their work to a greater audience. AIM culminates with a biennial exhibition organized by guest curators and an accompanying catalogue.
April–June 2014
Bronx Museum of the Arts, Bronx, NY
Ortega y Gassett Gazette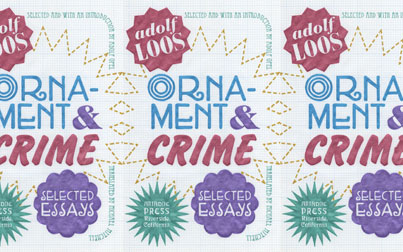 Check out my latest gel pen drawing.
The Gazette is published by Ortega y Gassett, a collaboratively artist-run alternative art space in Ridgewood, NY. Organizer and artist Lauren Frances Adams asked contributors to illuminate Adolf Loos' essay, "Ornament and Crime."
Land and Sea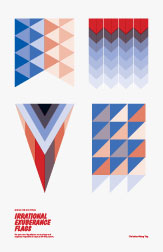 I've contributed my first riso—a poster/DIY mini flag set—to this epic box set.
Land and Sea is an Oakland, CA-based fine art publishing venture by Chris Duncan and Maria Otero. Check out the box set of 77 artist's risographs at the L.A. Art Book Fair, 1/31-2/2.
Land and Sea #77