Or inquire at: Green Apple Books, 506 Clement Street at Sixth Avenue in San Francisco (map)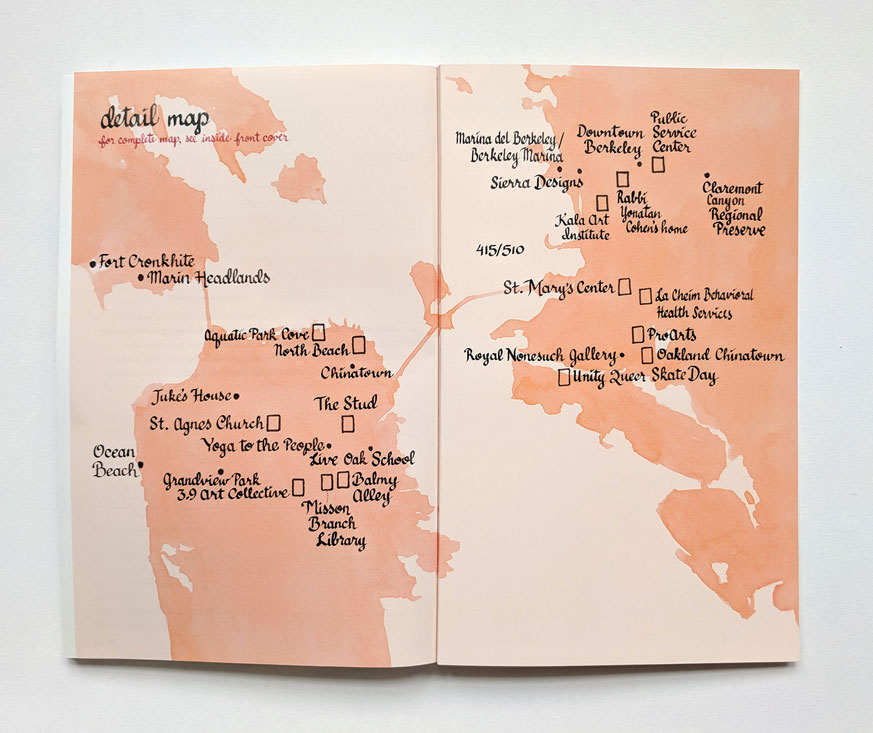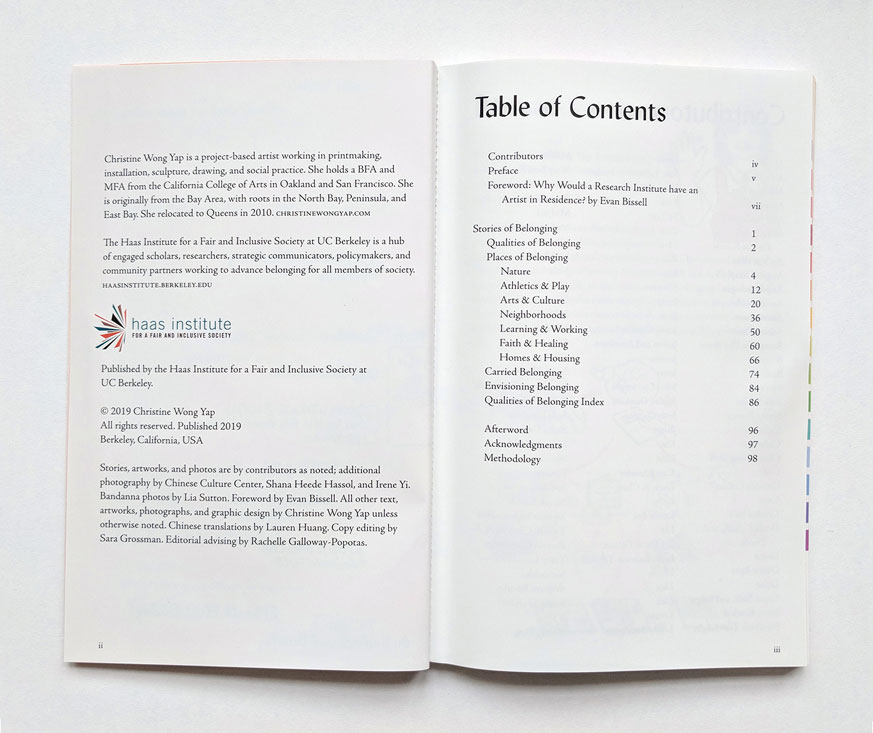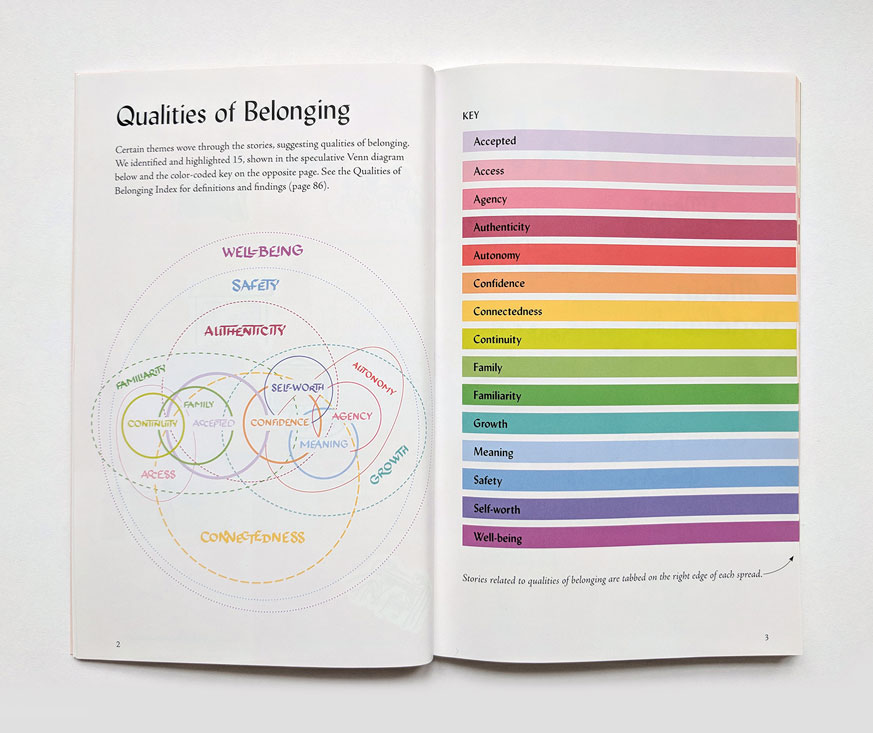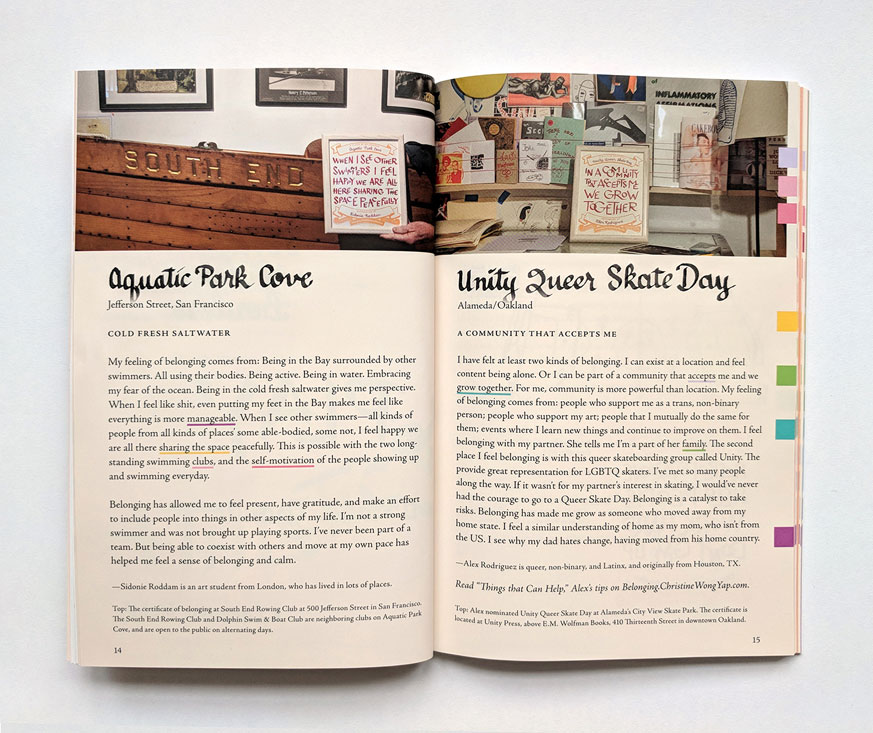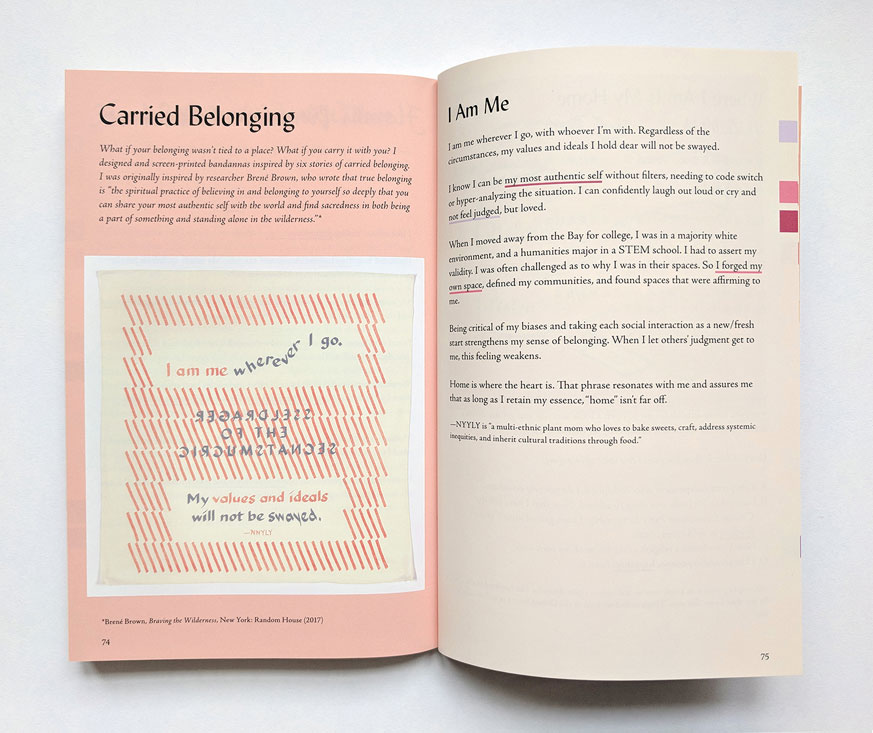 Contributors
Abby, Aiyu Xing, Alex and Fitz, Alex Mabanta, Alex Rodriguez, Anais Isabel De Los Santos, Andrea Wise, Angela Campbell, Angela Jernigan, Anne Meade, Anonymous, Ashley Kwan, Avery Van Der Steur, B, Basil, Becca, Billy White , Blythe Feeney, Cameron , Catherine, Chao Zhang 張超, Cody, Cressida Collins, Criya, Cynthia Bird , Denis, Cefrain, and Derek, Donte, Dorrie Reid, Dylan, Edgar, Saúl, and Felipe, Elena Kiseleva , Elizabeth Travelslight, Emily, Eric Talbert , Felicia Kuan, Fina, Fu Liu , Gen, Hoi, Iliana, Isaac, J. Fever, Janay, Jane, Janny Castillo , Jeison and Aureliano, Jerome, Jesus , John Cartwright, Jordan Dawkins, Josh Cousins, Justin, Kai, Kate, Kate Rhoades, Kevin B. Chen, Koby, Larnie Fox, Lay, Lee Oscar Gomez , Leslie Samson-Tabakin, Lillian, Liza, Lizz, Loralei, Lordy Rodriguez, Malani, Mary Lou Favela, Mary V. Marsh, Megan Ramirez, Michael, Michele Rabkin, ML, MyMy , Nala, Nicacelly , Nicolas, Niko, NYYLY, Oliver, Oliver, Rachel Formella, Remington Penaranda, Rodney Ewing, Sam Laughter , Sasha Graham, Sidonie Roddam, Simon, Simone, Spookes, Steven Barich, Termeh Yeghiazarian, Tianshi Chen 陳天石, Torreya Cummings, Tracy Lam-Hine, Veruschka, William Rhodes, Xiang Li (Alice), YY, Zheng Fang

Excerpts
Place of Belonging: North Beach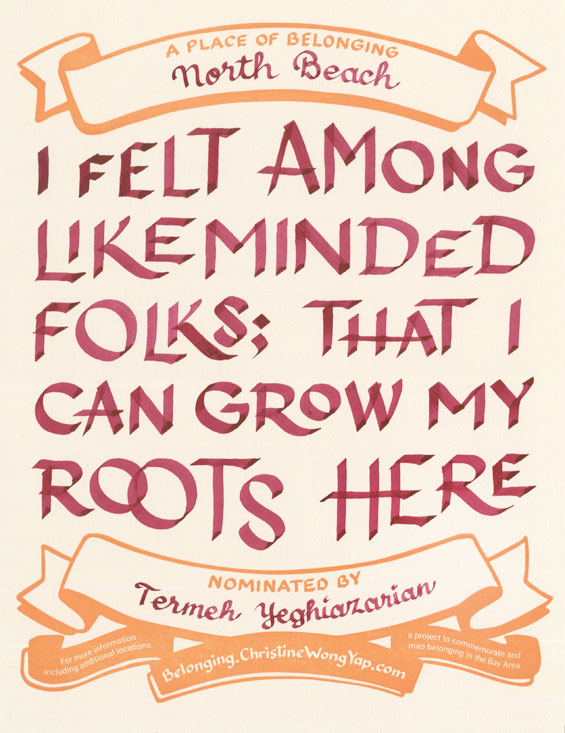 Bohemian past, uncertain future
From my first visit to San Francisco back in 1983, to within months of moving into the neighborhood, I have felt an indescribable sense of connection with North Beach. The day I moved to the neighborhood I wanted to learn more about it and connect with the community. I must have sensed the bohemian past and the artistic life that is alive and present to this day. I felt a sense of kinship. After living in Connecticut, Boston, and New York, the city of San Francisco as a whole felt like home right from the start. I felt among like-minded folks; that I can grow my roots here. You can see traces of the city's history in North Beach clearly. It's a little village within a city where quirkiness ruled supreme! I liked the artistic bend to the place and the Italian families who have lived here for generations, its multicultural blend of residents and visitors. The topography made a difference too. The combination of old and new buildings, hills, view of the bay, parks. This is a livable little town within the city.
I quickly joined the Telegraph Hill Dwellers and volunteered for the North Beach Historic District project, created an art and culture committee, and organized various events and activities to strengthen the connections between commercial, artistic and residential elements. I like how the cafés serve as the neighborhood's living room and Washington Square Park our common playground.
There are so many great businesses in the hood that are deserving of recognition, like Café Trieste and Café Greco (but everyone has their favorite hangout). Zach Stewart at Canessa Gallery has been an unsung hero and a champion of artists.
In the past three years, I have had to rent out my apartment and live out of my suitcase due to inflation in this city. As I near retirement age, I am finding it harder to work as a contract teacher, a position that I've held for over 17 years, due to younger and cheaper competition. In the past ten years, I've watched artist-friends and art and culture serving businesses and organizations leave the city. With the prices only rising, it's become nearly impossible to live in a place that I consider home. Of necessity, I've partially lived in Detroit and LA, two more affordable cities, while barely hanging on to my apartment and art studio where I maintain an art practice against all odds.
So, how has my place impacted my sense of belonging? In recent years, it's shaken it to its core. It's a day to day battle against homelessness.
As a part of the Iranian diaspora, I felt out of place for many years before finding a sense of belonging in San Francisco. It allowed me to reconnect with my own sense of identity as well as that of the city and neighborhood that I live in. It motivated me to improve my neighborhood and volunteer my time to help my community. I learned as much about myself as I did about my city, my neighborhood, and my community.
Place of Belonging: Oakland Chinatown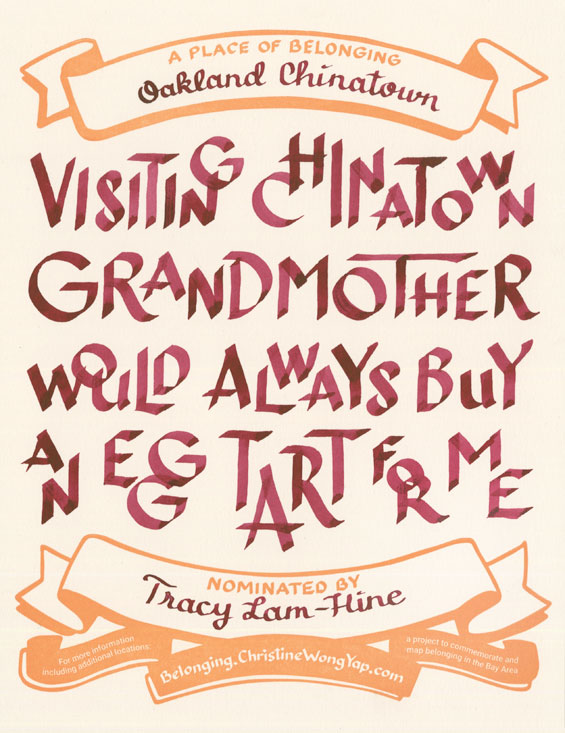 Support, love, and egg tarts
It's loud, it's colorful, brash and unapologetic. It's a haven or safe space, a meeting grounds for people who may often feel like they're on the fringes of society. It smells like herbs, roasted duck, baked goods (and sometimes trash). It was, until recently, brazenly ungentrified and unconcerned with the palates or aesthetic sensibilities of wealthy white people.
My grandmother on my mom's (Chinese) side lived in the room next to me in our house growing up, and she was one of the most influential people in my life. Even though I only spoke broken Cantonese as a child and she knew less than a handful of words in English, she was a constant source of support and love for me. As a child, we would frequently go to Oakland Chinatown together for doctors appointments or to buy groceries or Chinese medicine, and she would always take me to a bakery on the corner of 8th and Webster and buy me a "dan tat" (Chinese egg tart).* The bakery owners knew her, and she would often see friends there. Somehow for me, this became a literal anchor point for me, so much that when I moved back to Berkeley/Oakland for college, it was the place I would navigate back to whenever I got lost in that area.
Feeling belonging both frees me to pursue my passions, and also gives me a sense of duty to make my community a better place for everyone. Because I know that I am valued as a person and I see the impact of being valued, I have dedicated my career to the study of essentially, the science of health and belonging (social epidemiology).
What makes this possible? Are there any systems, structures, policies, or practices that enable or facilitate your belonging in this place?
The evolution of the American immigration system. The history of redlining in Oakland. The importance of food and community in Chinese culture. The fact that even though I look different, I was raised by the Chinese side of my family and feel deeply tied to that part of my identity.
Because of my inherent privileges (being male, light skinned, educated/high socioeconomic status, able bodied, etc.), not belonging is a relatively mild feeling in the Bay Area. But for many others, like people of color, those with disabilities, people experiencing homelessness, those who have been incarcerated, etc. . . . not belonging can be a deadly fate in our society. Public health research has shown us repeatedly that belonging is literally a matter of health or sickness, and in the worst cases a matter of life or death . . . Social exposures (like racism, classism, colorism, etc) are the causes of poorer health in marginalized communities. This is important especially in the US, because we as a society spend so many resources on decided who belongs and who doesn't, and who is deserving of compassion and help, and who isn't. This is one of the reasons I think why the Bay Area feels like home and a safe place for so many people—because for many years it has represented a respite from the exclusion and othering people like me find in different parts of the US.
*Dan tat are somewhat symbolic for me in that, like me, they are a fusion food and product of either cultural exchange or a legacy of colonialism, depending on your point of view. People sometimes view me the same way.
Place of Belonging: Joe Henderson Elementary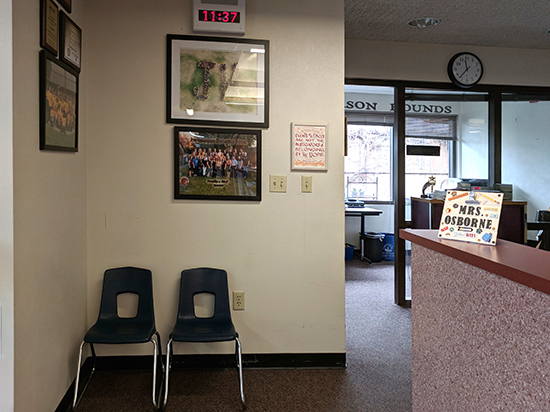 A handshake or a hug
I didn't choose to move to Benicia. My wife's family is from here. I've been mistaken for a landscaper many times or as a Vallejo resident visiting Benicia and that didn't feel all that great. But once my kids started school and I got to know more of the other parents I started to feel that sense of belonging. I volunteer in the kids' classes as well as attending all the different social events the school throws. I'm able to connect with the parents by having that shared experience with our own kids. And I'm able to connect with the kids with the different projects we work together on. That continued connection helps me feel like I belong. When those people welcome me into their space with a handshake or a hug, say my name, give a nod of acknowledgment, or offer me food, I feel I belong. This helps me feel like I have roots here and am perfectly content with Benicia being the last place I move to.
Carried Belonging: I Will Fight to Belong
I have a tattoo that tells you where I'm from. Most see this as an invitation to a gang enhancement charge, LOL. But it really tells you who I am and who I belong to. Who my family is. No matter how long we go without seeing or talking to each other, we belong to each other. That's all Black people have is our relationships.
Belonging feels like my motivation to finish school . . . My endurance, perseverance, resilience . . . Peaceful, love, tenacity, loyalty. It feels like a shining light to fill me with hope, joy, and safety. My sense of belonging is strengthened by trusting in others and seeing that they trusted me too. It's weakened by separation and gentrification. Black death: social, mental, physical. Moving away from each other, we all felt unsure, suspicious, angry. I got married and my husband wouldn't let me see them. I felt lonely, disloyal, unworthy, like I didn't matter to them anymore . . . but it wasn't true: they welcomed me with open arms.
Belonging made me stronger. It helped me to believe in myself and see my value. That I wasn't invisible. It's allowed me to become an activist, to fight against white supremacy, anti-Blackness, anti-poor. It has made me a leader.
It made me fight harder for my life, my son's life, their lives, and for my people. I will fight to belong, for all my people to belong.
Belonging includes getting to know your neighbor, turning off the TV, and refusing to believe the destructive narratives that divide and conquer us. Take a chance and engage in activities with others who don't look like you. Don't be afraid to grow to realize that none of us are all-knowing. We have to communicate and believe in people. Know that all of us hold implicit and explicit biases; accept your weaknesses and be willing to do the work to help us all feel like we can belong.
Credit: Christine Wong Yap, 100 Stories of Belonging in the S.F. Bay Area, 2019, digitally printed book, 116 pages, 8.5 x 5.5 inches. Developed as inaugural artist in residence at the Othering and Belonging Institute (formerly the Haas Institute for a Fair and Inclusive Society) at UC Berkeley.