History
I started exploring belonging last year, during a five-week residency at the Sanitary Tortilla Factory in Albuquerque, New Mexico. That project resulted in a 13 handlettered signs and a 'zine. Learn more.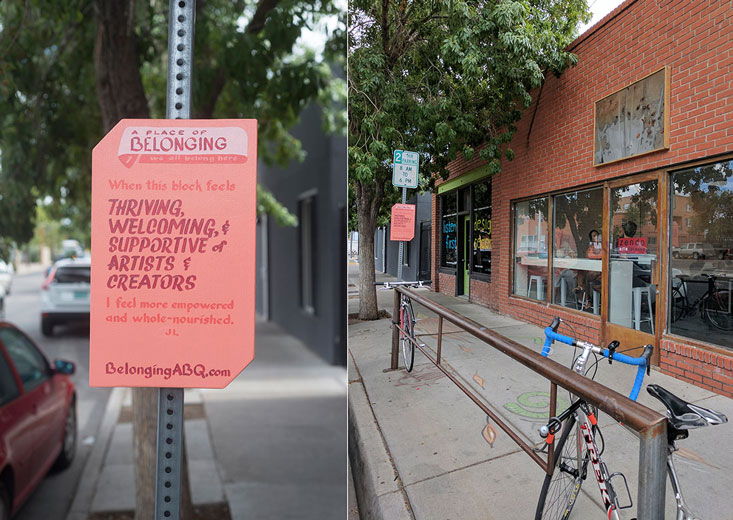 Two examples of hand-painted signs commemorating places of belonging in Albuquerque, NM in a 2017 project.
I also created a project to explore belonging in the Bay Area in Take Action, an exhibition at the California College of the Arts in San Francisco. Some of the stories collected there made their way into 100 Stories of Belonging in the S.F. Bay Area.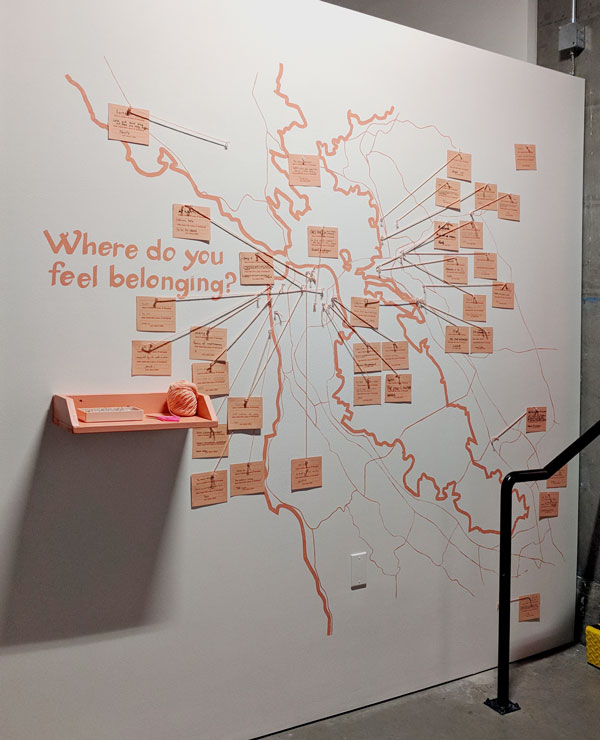 Participants added their place of belonging to a map of the Bay Area (seen here on opening night).
I'm originally from the Bay Area, and have lived in the North Bay, Penninsula, and East Bay before relocating to Queens in 2010. I've returned regularly for family, friends, residencies, and exhibitions.
Process
Story Collection
November–January 2, 2019
Production & Commemoration
January–March 2019
At Kala Art Institute, I printed, hand-lettered, and framed certificates and I screen-printed bandanas. I installed certificates at places of belonging. I also edited and designed the book.
Release
April 8–10, 2019
I presented the project and released the book at the Othering and Belonging Conference in Oakland.
More Info
Learn more about my methodology of collecting stories in the book.
You can also see the following process and research notes on my blog: