Ten Banners for Home and Office, 2012, three-color screenprint on cut holographic vinyl, 13.5 x 19 in / 34.2 x 48 cm. Edition of 50.
A poster and a sticker sheet for The Present Group. Printed by Forthrite Printing. Accompanied by an introduction, essay by Sarah Hotchkiss, interview, and annotated links.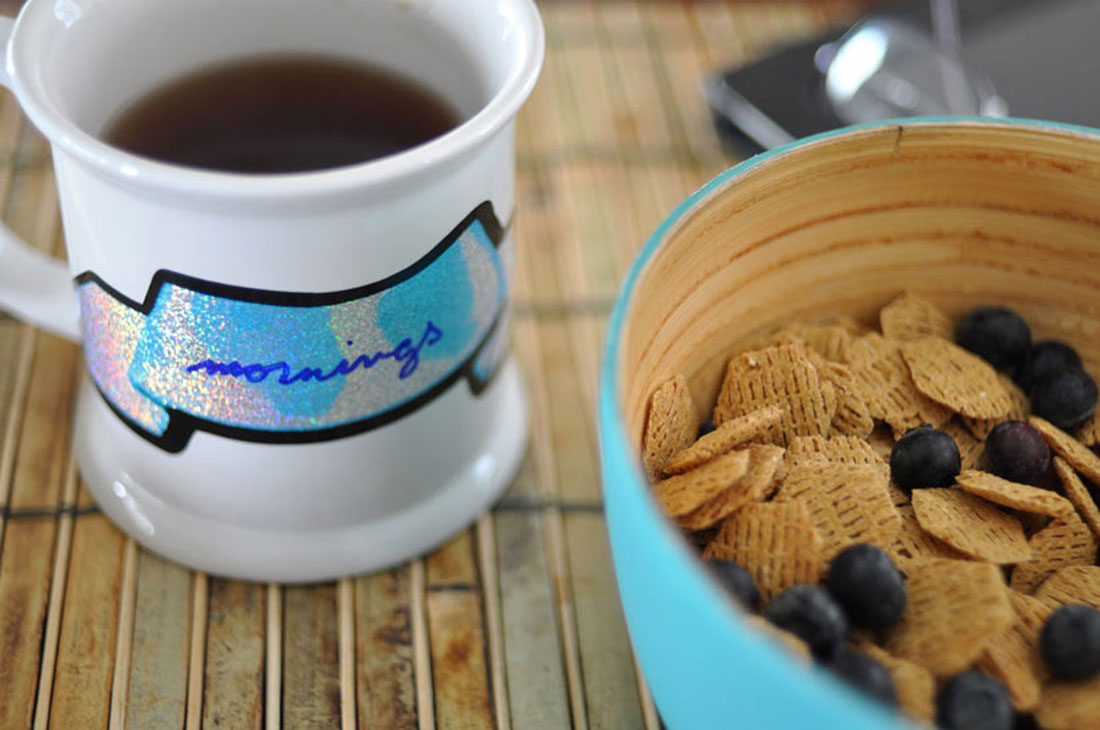 Ten Banners for Home and Office. Each of the banners can be removed and adhered to various surfaces. Users can also write on the banners, creating memos to themselves or reminders of things to celebrate. Photo: The Present Group.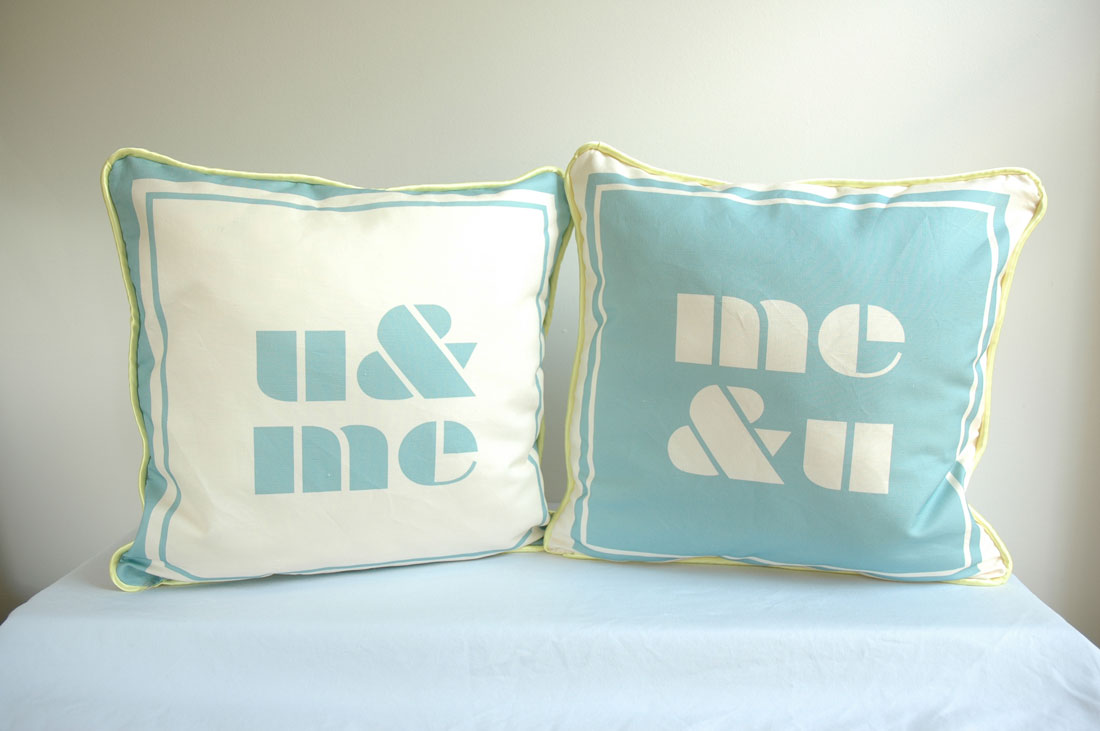 u&me/me&u pillow, 2010, printed 55% linen/45% cotton canvas, satin piping, non-allergenic polyester fiber, 15x15x5 inches / 38 x 38 x 13 cm, edition of 6 + 1 AP.
Alternating texts on each side. Inspired by a pillow embroidered by activists Del Martin and Phyllis Lyon.
Sold out.
Activist Imagination catalog, from the Activist Imagination exhibition
Activist Imagination: a multi-disciplinary look at the past, present, and future of APA activism, featuring the work of Bob Hsiang, Donna Keiko Ozawa and Christine Wong Yap. Essay by Kevin B. Chen. Design by Jon Sueda and Sophine Lim. 72 pp. (inc. 24 pp. color and a sticker sheet).
Available via Paypal. $20 + $5 shipping.
Reflect/Emit (left: lit view; right: glow-in-the dark view), 2009, screenprint with iridescent and phosphorescent inks, 10 x 10 inches / 25.4 x 25.4 cm.
A two-phase print that depicts a minus sign that glows in the dark, within an invisible plus sign that reflects light.
Available via Paypal. $150. Now $100 + $10 shipping.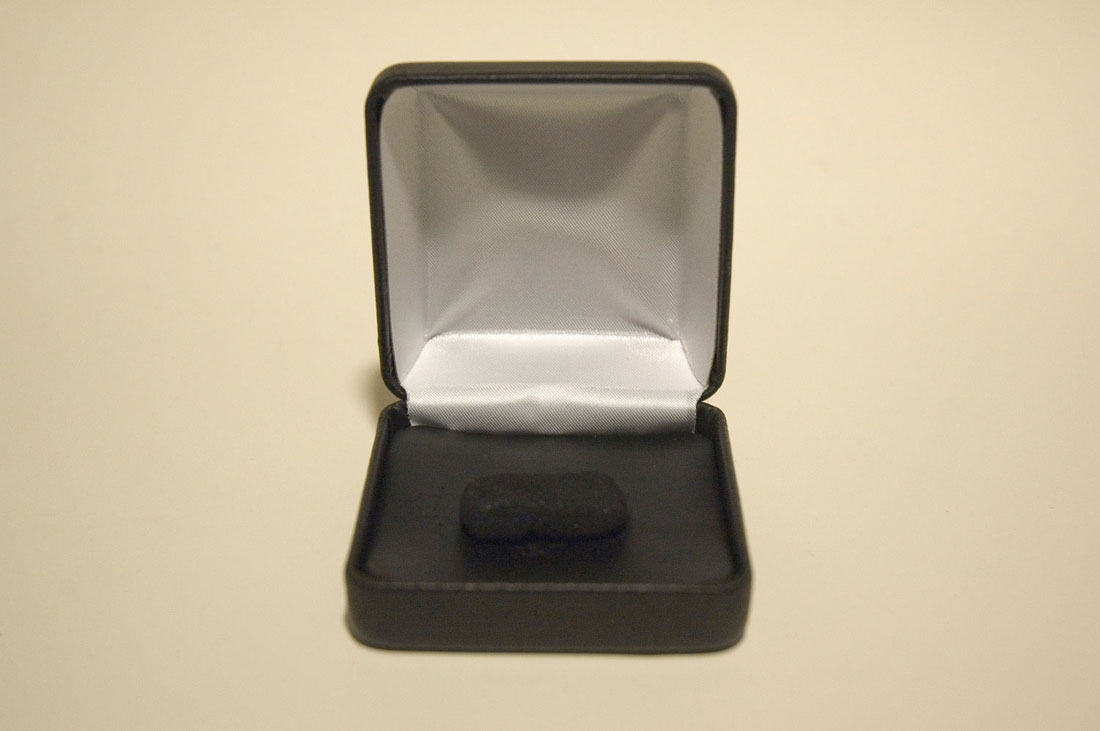 Miniature Charcoal Ingot, an extension of Anti-Campfire, 2008, charcoal, binding agents, jewelry case, ingots vary in size; boxes measure 2.625 x 2.625 x 1.75 inches / 66 x 66 x 44 mm each. Edition of 16.
A small ingot sculpted by hand from carbon-rich charcoal.
Available via Paypal. $20 + $5 shipping.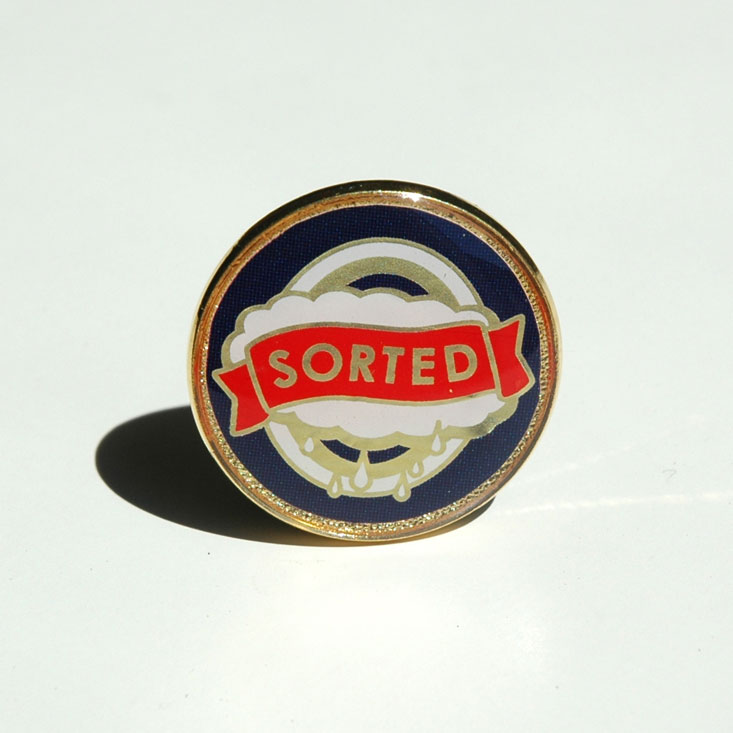 Sorted, from Pounds of Happiness, 2009, gilt and enamel badge, 1 inch / 25 mm diameter. Edition of 50.
Inspired by British commemoratives, this gilt and enamel badge suggests the coexistence of gloomy outlooks and vibrant attitudes. 'Sorted' is a Mancunian expression of affirmation. Edition of 50.
Sold out.
Irrational Exuberance (Asst. Colors) Buttons #1–3, from Irrational Exuberance (Asst. Colors), 2010, badges, 1–1.75 inches / 2.5 x 4.5 cm dia. each
Optimism is a matter of dealing with setbacks. To wear round buttons bearing an arrow is to decide which way the arrow points. Three sizes and designs available: 1.75 inch (44 mm); 1.25 inch (32 mm), 1 inch (25 mm).
Available via Paypal. $2 + free shipping.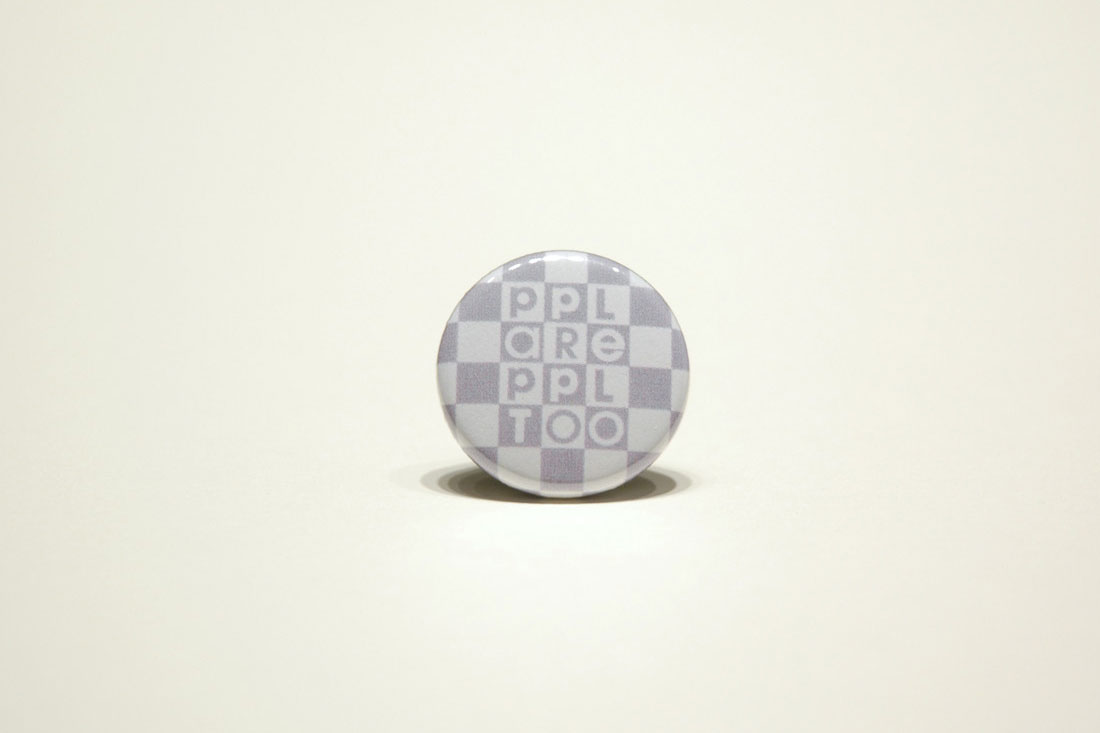 People Are People Too button, 2009, pinback button, 1 inch / 25 mm diameter.
A conditional message of compassion or resignation on a 50/50 checkerboard.
Available via Paypal. $2 + free shipping.
Untitled (Lens Flare, Tiny Mirror) (Miniature Multiple), from the Lens Flare (Large Mirror) series, 2007, mirrored paper, printed paper, vellum, laser-printed brochure, plastic bag and laser-printed hangtag, 3.5 x 5 inches / 9 x 13 cm, edition of 170, signed and numbered by the artist.
A collaged mirror puts a sparkle on your smile. Hold it up to a light to see your smile glow.
Sold out.
Containing survey results and six interviews, CO-LABORATION is a 28-page 'zine exploring working creatively with others. The first printing was underwritten by Harvester Arts.
Download the PDF. For a hardcopy, please inquire about availability by emailing .
Based on survey responses from 112 artists, Inter/dependence is a 20-page 'zine featuring an essay and nine data visualizations exploring the positive psychological benefits of art practice, relatedness, and self-organized activities.