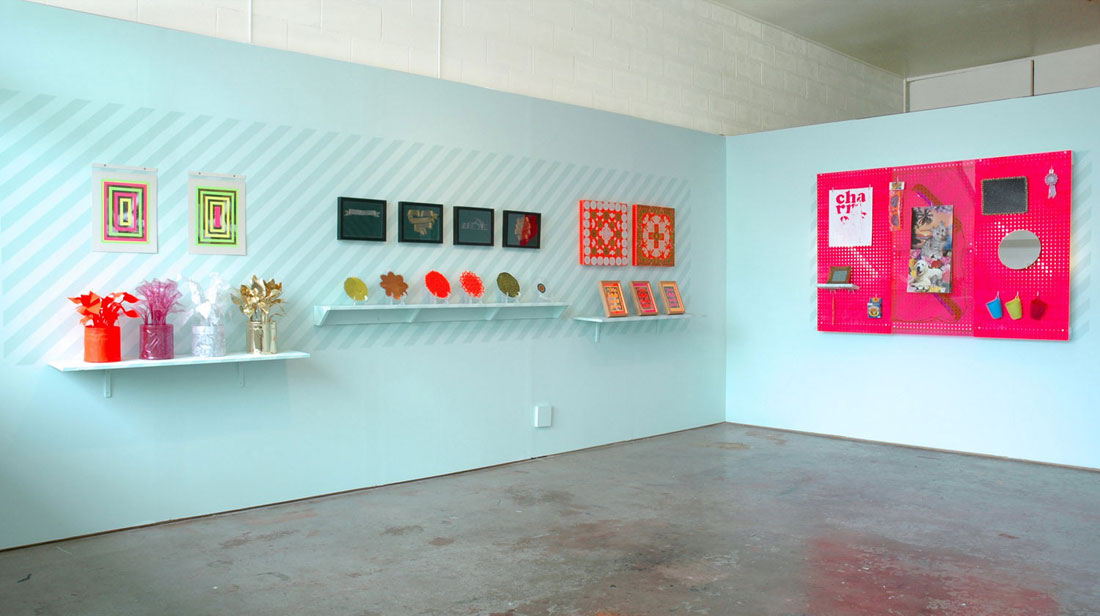 Installation view
Banners and Plates series
Banner #1, 2010, color laser on acetate, holographic gift bag, mat board, frame, 12 x 9 inches / 30 x 23 cm

Made by styling and photographing ribbons, outputting color transparencies and layering them over laser paper gift bags.
Vinyl Ficus #3 & 4, 2010, vinyl, mylar, thread, lacing, wire, ~18 x 12 x 12 inches / 45 x 30 x30 cm each

Sewn and laced from plastics. Both the tropical plant and its standard plastic pot are ubiquitous.
Plate #5 & #6, from an edition of six decorative plates: stickers, labels, plateholders, custom acrylic stands, painted shelf, 72 x 8 x 14 inches / 1.8 m x 20 cm x 36 cm

Made from stickers and labels, resembling the decorative knick-knacks you can find in households of all classes.
Hankies, 2009–10, Edition of two embellished handkerchieves: fluorescent handkerchiefs, place mats, thread, wood, 18 x 18 x 2 inches / 46 x 46 x 5 cm each. This Too Shall Pass, 2010, Edition of three papercut collages: paper, calendars, adhesive, customized rabets and frame, painted shelf, 48 x 10 x 12 inches / 1.2 m x 25 cm x 30 cm

This Too Shall Pass could be interpreted optimistically, suggesting savoring pleasure and being resilient. As pleasure is necessarily fleeting, even modest pleasures will suffice, according to Paul Martin[1].
Irrational Exuberance (Asst. Colors) Peg/plex, 2009–10, pegboard, laser-cut acrylic, fluorescent lights, UV fluorescent lights, asst. works, 72 x 48 x 12 inches / 1.8 x 1.2 x 0.3 m

A display of readymades and one-offs.
Cute ___ Calendar, (shown: October, March, August), 2010, collage of found calendars, 12 x 12 x 0.5 inches / 30 x 30 x 1 cm

A papercut collage made of multiple calendars; an exercise in how endearing images can stimulate backlash.
Irrational Exuberance (Asst. Colors) buttons #1–3, 2010, badges, 1–1.75 inches / 2.5 x 4.5 cm dia. each.

To wear round buttons bearing an arrow is to decide which way the arrow points; even orientations as simple as up or down connote metaphors integral to human cognition.[2] The kink in the arrow indicates setbacks, a pivotal gauge of explanatory style[3] and optimism.

Available as a Multiple.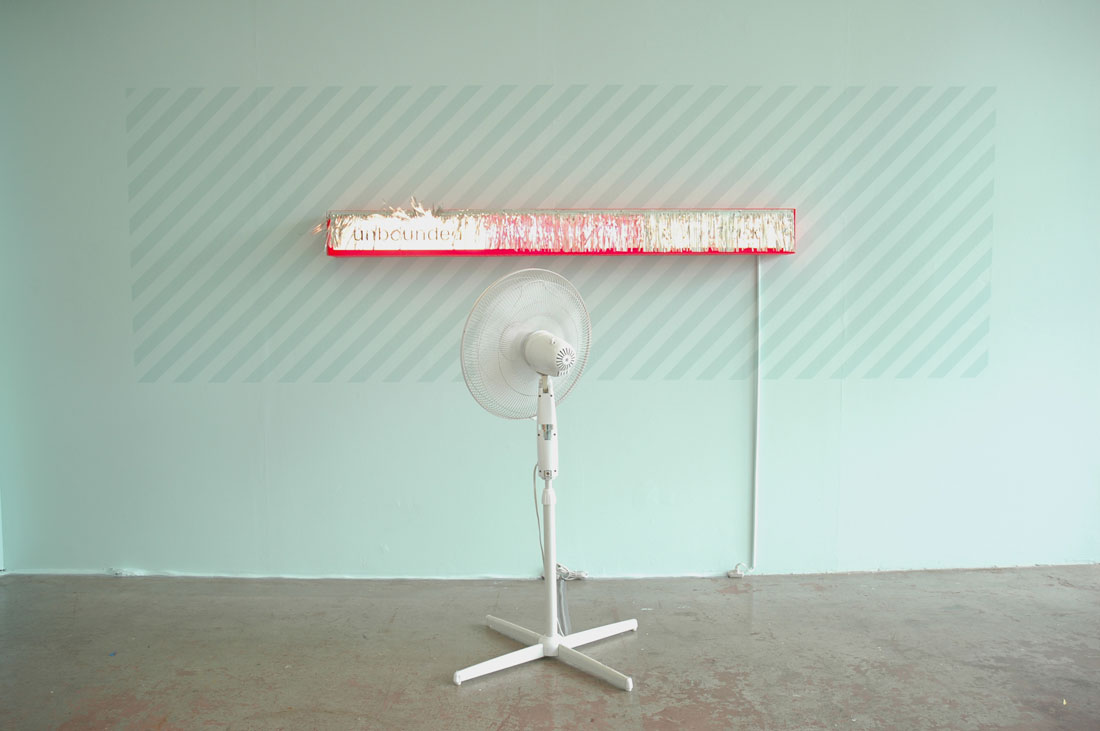 Unbounded/Unfounded, 2010, fan, metallic fringe and light box: pegboard, wood, acrylic, vinyl, lights, paint, 73 x 60 x 48 inches / 1.8 x 1.5 x 1.2 m

Makes visual the oscillating perceptions of optimism in mass media. The fact that optimism can be a choice doesn't mean it's unrealistic.
Detail: unbounded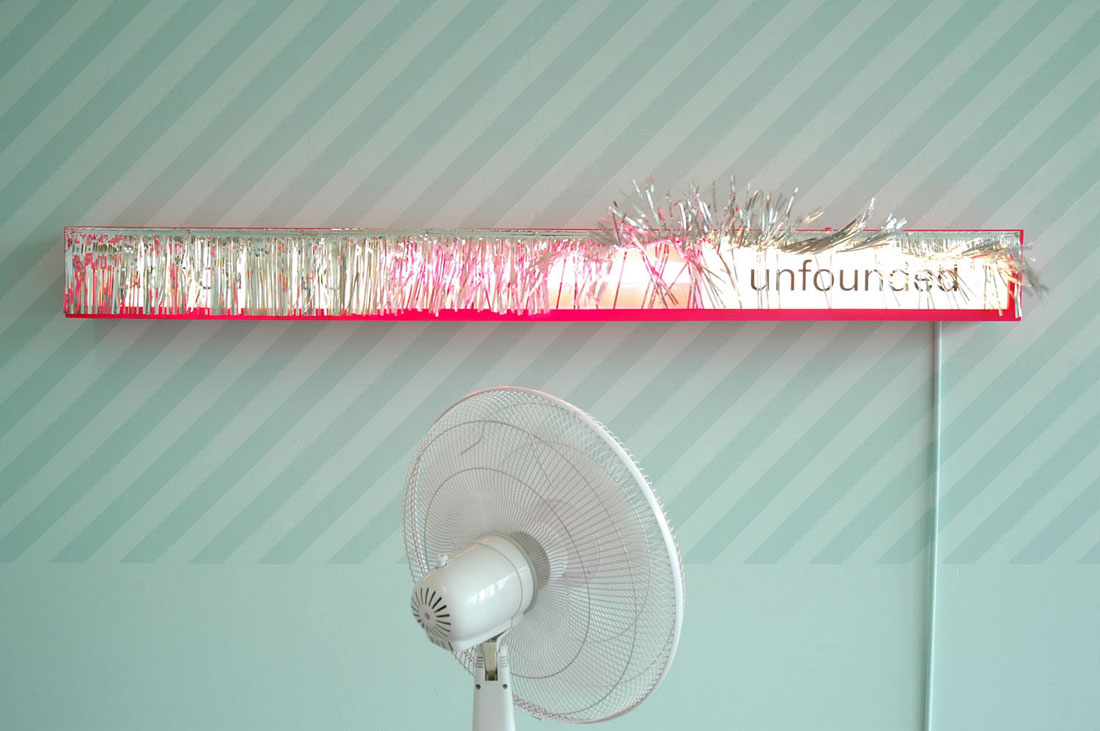 Detail: unfounded
Untitled, 2010, site-specific durational display of latex balloons filled with helium, air and helium, and air, dim. var.