Make Things (Happen), installation view of display units holding 41 activity sheets, plus work table with art supplies. Interface Gallery, Oakland, CA.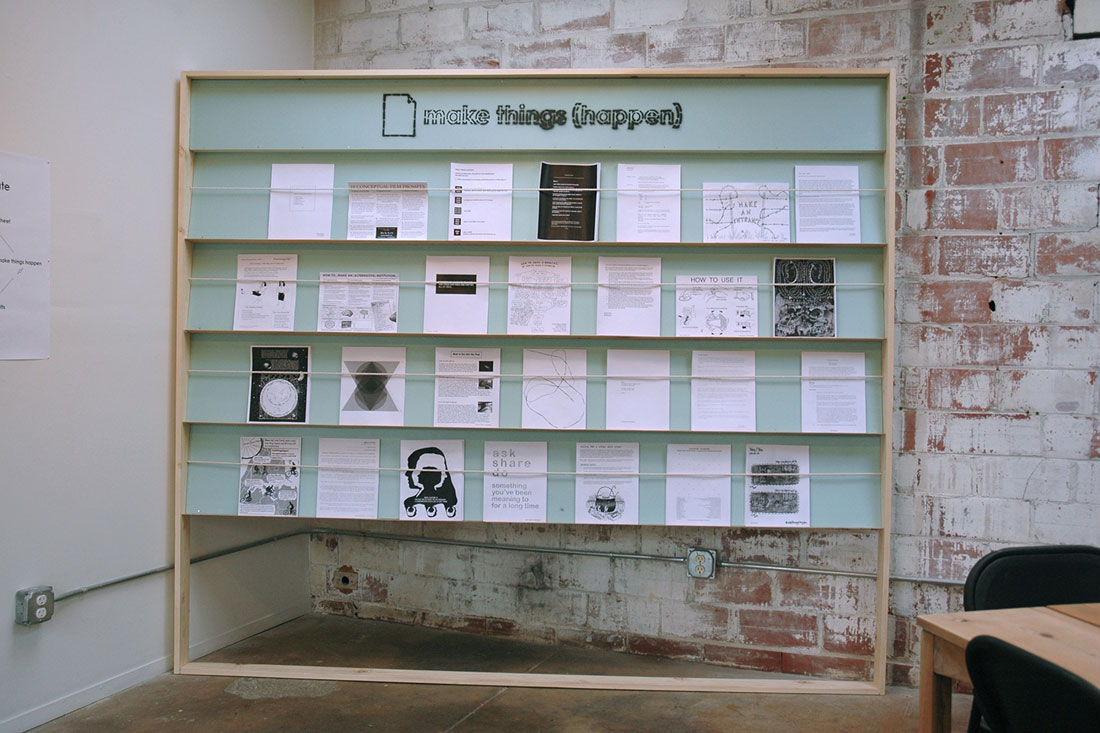 Activity sheets on display unit, wood, paint, cotton rope, 84" x 97.5" x 3.5"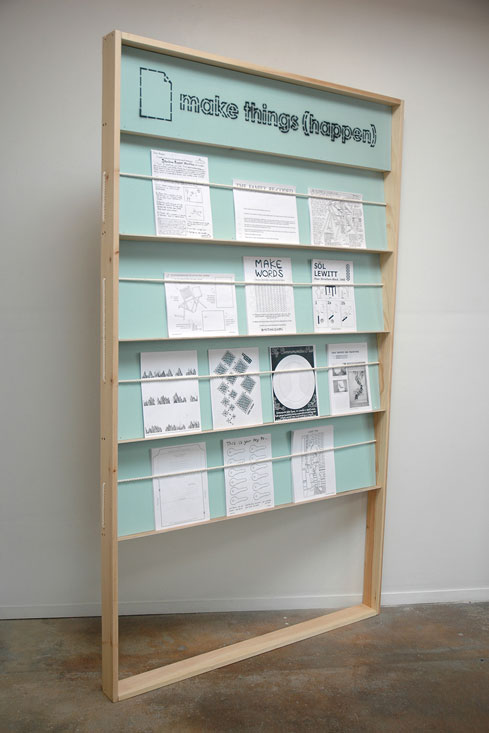 Display unit, wood, paint, cotton rope, 84" x 49.5" x 3.5"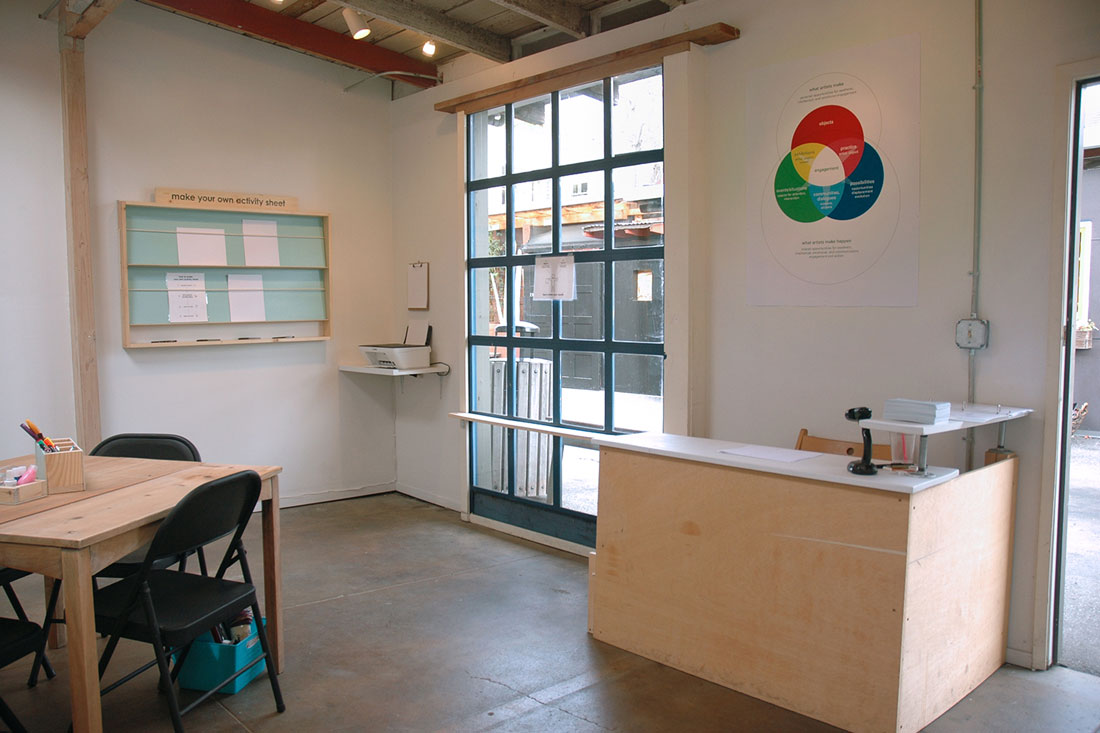 Installation view of make your own activity sheet station, plus what artists make happen Venn diagram by Christine Wong Yap.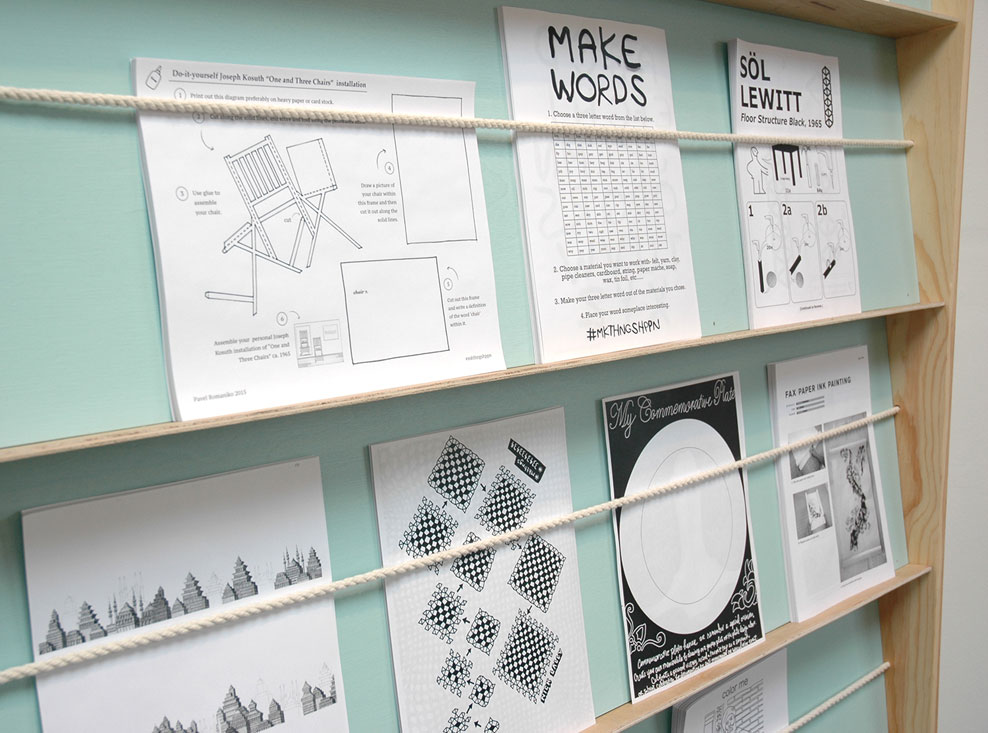 Activity sheets by (top row): Pavel Romaniko, Kari Marboe & Erik Scollon, Melissa Miller; (lower row): Kevin B. Chen, Nick Lally, Lauren F. Adams, Tattfoo Tan; and (bottom row): Dionis Ortiz
Activity sheets by (top row): Piero Passacantando, Genevieve Quick, Lu Zhang, Laura Napier; (bottom row): Lexa Walsh, Ariana Jacob, Helen de Main, Alex Wilde & Emily Chappell.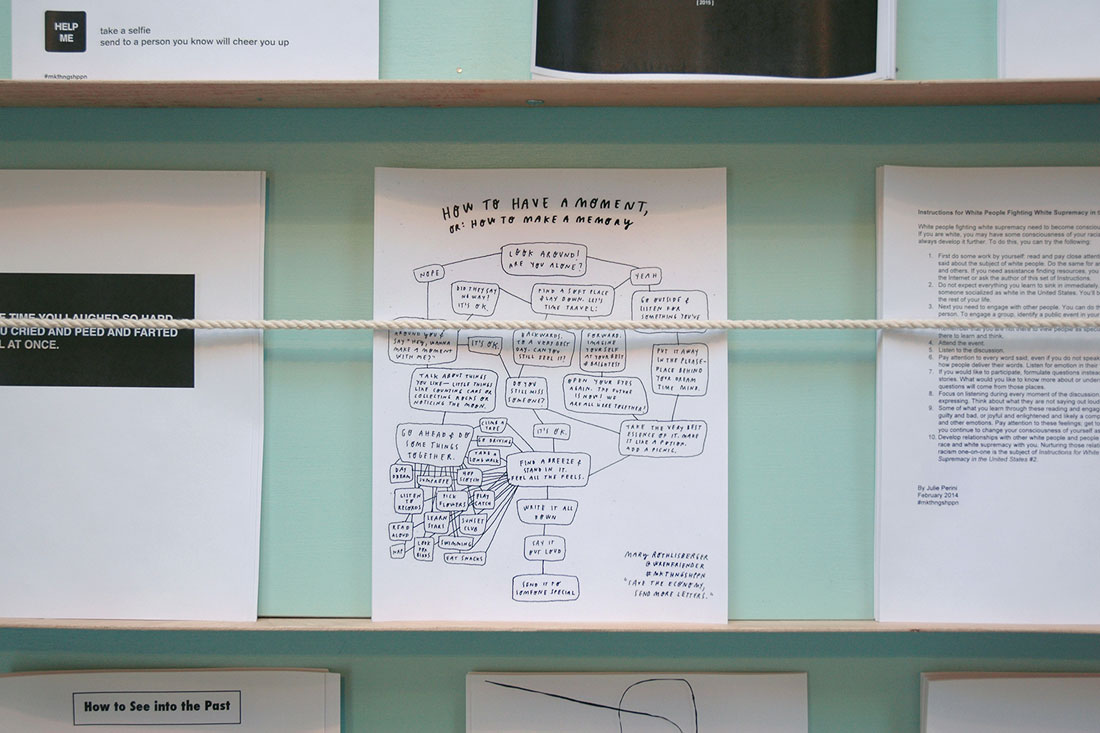 Activity sheets by (middle row): Susan O'Malley, Mary Rothlisberger, Julie Perini.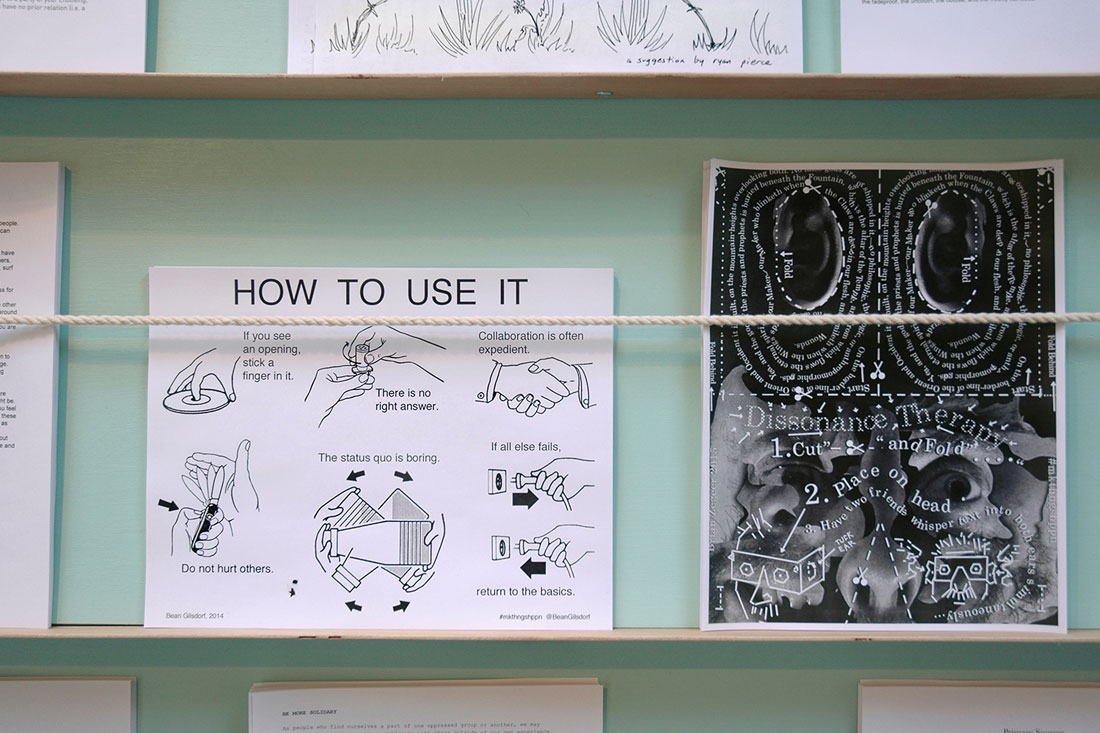 Activity sheets by Bean Gilsdorf (left) and Brian Zegeer (right).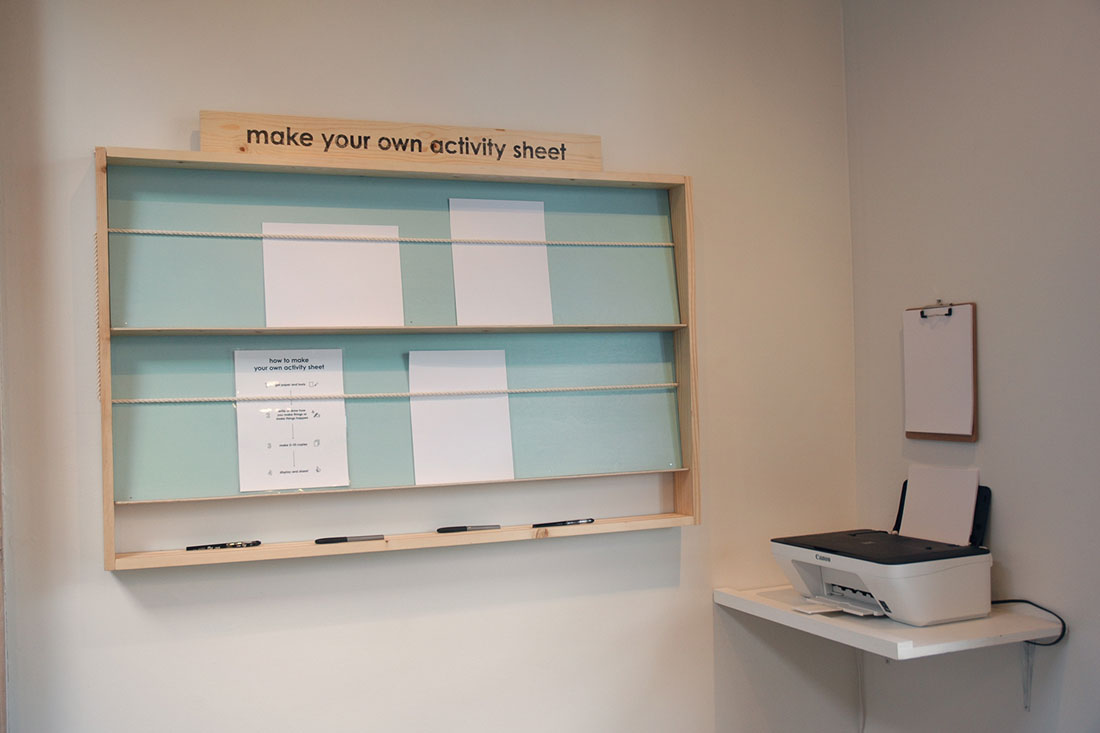 Make Your Own Activity Sheet station with copier/printer and display area for leaving copies of new sheets for others to take and use.
Newly contributed sheets.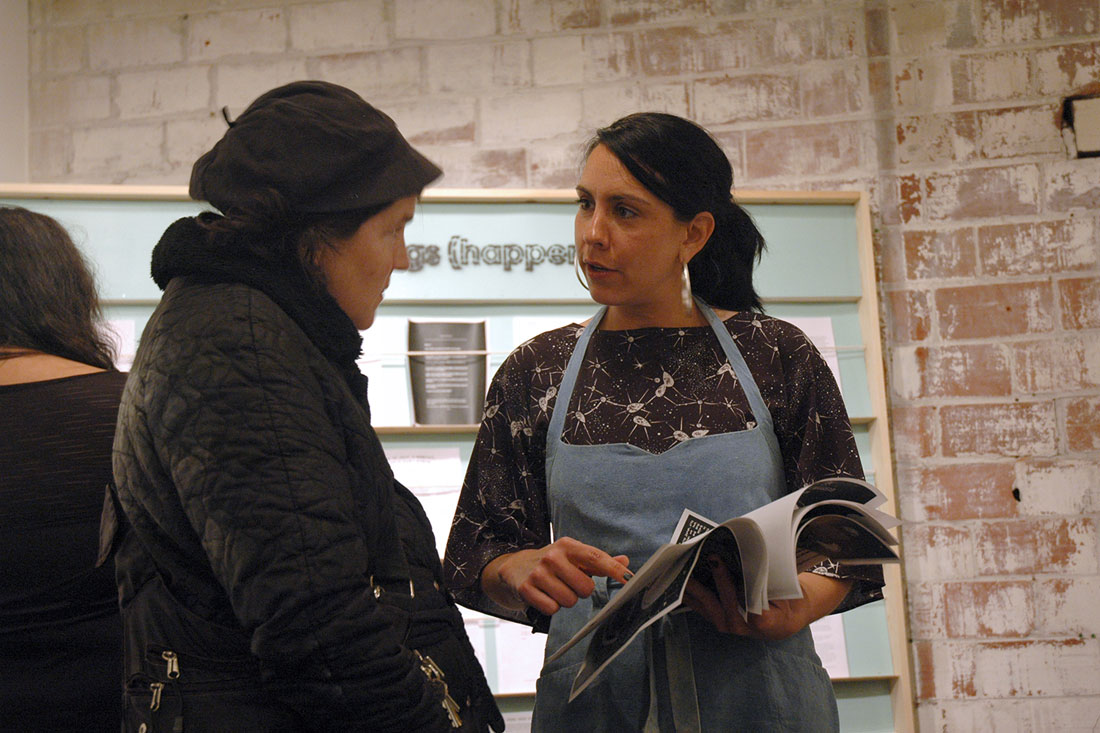 Lauren Marie Taylor (right) discusses her star chart activity with Lexa Walsh (left).
Participants with Pavel Romaniko's miniature Joseph Kosuth Three Chairs activity (left, in hands), Mail Order Bride's/M.O.B.'s power positions corporate handbook page (lower right), and Lauren Marie Taylor's star chart activity (upper right).
Mystic Pizza crust divination activity sheet by Hannah Jickling and Helen Reed at neighboring offsite location, Lanesplitter Pizza.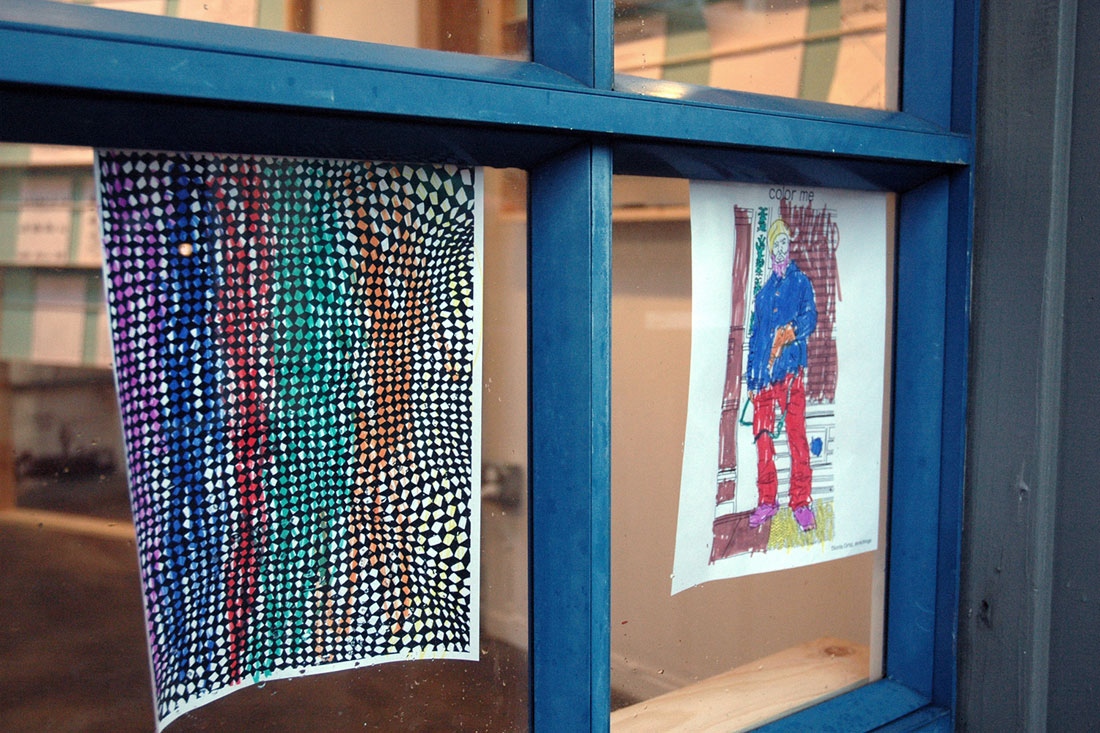 Interface's windows were a display area for completed activity sheets, such as these sheets by Nick Lally and Dionis Ortiz, by Lila, age 6.